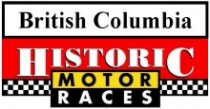 The 2016 BCHMR has its own web site. It also has results and photos on the 2012, 2013, 2014 and 2015 events.
Just click on this link: www.bchmr.ca to go directly there.
Membership – New and Renewal
Interested in becoming a Member of the VRCBC or just want to renew your current one? Go to the Membership page here.
Dennis has a 'Smokin' Day'
Lotus 7 2nd – 2012 Race #1
Lotus 7 wins 2012 Race #2