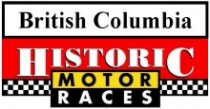 The BCHMR has its own web site with info for 2014, plus results and photos on the 2013 and 2012 events. Just click on this link:
www.bchmr.ca
to go directly there.

Go to www.racing.ca to watch some excellent videos of the 2013 races at Mission Raceway. No Vintage races (yet) but the action is great!
Dennis has a 'Smokin' Day'
Lotus 7 2nd – 2012 Race #1
Lotus 7 wins 2012 Race #2