Many thanks (again) to Marc Ramsay and everyone in Timing & Scoring for all their work throughout the BCHMR weekend and for providing these results so quickly after the event. The practice, qualifying and race times and results are arranged by Race Group: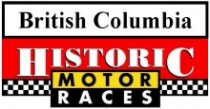 The 2017 BCHMR has its own web site. To enter your car in the races or to find info for sponsors, the media and spectators, just click:
www.bchmr.ca .
Interested in becoming a Member of the VRCBC or just want to renew your current one? Just go to the Membership page here.
Are you interested in Vintage racing but don't know where to start? Check out the 'Starting Vintage Racing' page here.
Dennis has a 'Smokin' Day'
Lotus 7 2nd – 2012 Race #1
Lotus 7 wins 2012 Race #2