Archive for the 'BC Historic Motor Races' Category
Posted: November 23, 2015
Get your pencils out and start marking your calendar for next year! The SCCBC recently announced their proposed 2016 race schedule for Mission. Please note that although these dates are likely, they are not yet fully confirmed:
SCCBC Driver Training #1: March 19/20
CACC Race Weekend #1: April 15/16/17 – Friday is a Practice Day – VRCBC REVS races on Sunday
CACC Race Weekend #2: April 30 / May 1 – VRCBC REVS races on Sunday
CACC Race Weekend #3: June 11/12 – VRCBC REVS races on Sunday
SCCBC Driver Training #2: June 25/26
ICSCC ('Conference') Race Weekend: July 8/9/10 – Friday is a Practice Day – no Vintage races
CACC Race Weekend #4: August 6/7 – VRCBC REVS races on Sunday
British Columbia Historic Motor Races ('BCHMR'): August 19/20/21 – Friday is a Practice Day
CACC Race Weekend #5: September 10/11 – VRCBC REVS races on Sunday
CACC Race Weekend #6: October 8/9 – VRCBC REVS races on Sunday
The SCCBC has added one more CACC – sanctioned race weekend this year. The intention is that there will therefore be a total of seven Vintage racing opportunities – the BCHMR weekend plus six 'REVS Sundays'!
Watch this space for final confirmation of the schedule.
Updated: September 2, 2015
The 2015 BC Historic Motor Races are now history! The 28th running of this annual VRCBC event was again held at the Mission Raceway Park Road Course over the Saturday, August 22nd – Sunday, August 23rd weekend. A big thank you from the VRCBC to all of our sponsors, fans and supporters, and of course, the entrants.
Update: The BCHMR's own web site (here) now has the full results for the weekend.
We have received hundreds of photos from many photographers. (Thank you!) A lot of them will eventually be posted on the BCHMR web site but in the meantime, check them out on the VRCBC Facebook Group (here) and the BCHMR Facebook page (here).
Posted: August 19, 2014
This year's edition of the BC Historic Motor Races continued the great 27 year tradition of the VRCBC's big annual event. The BCHMR has its own web site (here). Many photos of the weekend have already been added and the final results will follow soon. Check it regularly.
You can also see other photos and follow the ongoing serious (and not so serious) commentary among some of the racers, officials and fans on the VRCBC Facebook page (here).
The next regular VRCBC 'River's Edge Vintage Series' races will take place on the Sunday of the SCCBC's September 13th-14th weekend event at Mission Raceway. Full information will be posted on the Schedule page of the SCCBC web site (here).
It was wet but it was fun! Go to the BCHMR's own web site (www.bchmr.ca) for the complete results and photos of this year's event. A big 'Thank You!' from the VRCBC to everybody who entered and volunteered their time. See you again next year.
For the last while, the members of the VRCBC have been focused on the 25th running of the British Columbia Historic Motor Races (BCHMR), which were held at Mission Raceway Park Road Course over the August 4th-5th weekend.
The 2012 BCHMR has it own web site: www.bchmr.ca (or just click here). In addition to all of the pre-event information, that site is where you can now find all of race results and photos.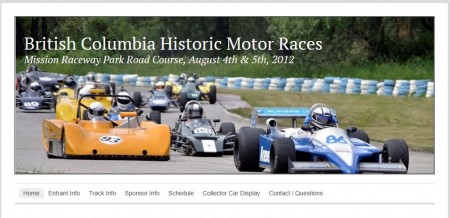 The event-specific web site for the 2012 BCHMR is growing quickly. This is a more convenient channel to provide the latest information to entrants, sponsors, the media, spectators and of course, VRCBC members. The latest addition is information on the special lodging deal at the Best Western and some great in-car videos from last year's event.
Check the site out here.
The Sports Car Club of BC has just announced this year's race schedule. Go to their website (www.sccbc.net) and click on Schedule in the left column.
Our BC Historic Motor Races will be held on the August 4-5 weekend.
The key weekends for the VRCBC are:
March 18, 24-25: SCCBC Driver Training
April 14-15: CACC Weekend #1 – our REVS #1 races will be on Sunday, April 15th
May 12-13: CACC Weekend #2 – our REVS #2 races will be on Sunday, May 13th
June 23-24: CACC Weekend #3 – our REVS #3 races will be on Sunday, June 24th
July 14-15: SCCBC Driver Training
August 4-5: BC Historic Motor Races (REVS #4)
September 22-23: CACC Weekend #4 – our REVS #5 will be on Sunday, September 23rd
October 6-7: CACC Weekend #5 – our REVS #6 will be on Sunday, October 7th
All of these dates have been added to our 2012 Events Calendar (here). Note that one of these REVS dates will likely change because we are discussing a possible date swap with SoloSprint (who run on Saturdays) that will provide each of us with one double event weekend during the season, making it more cost-effective for entrants, particularly those with higher travel costs.
Stay tuned for more announcements – coming soon.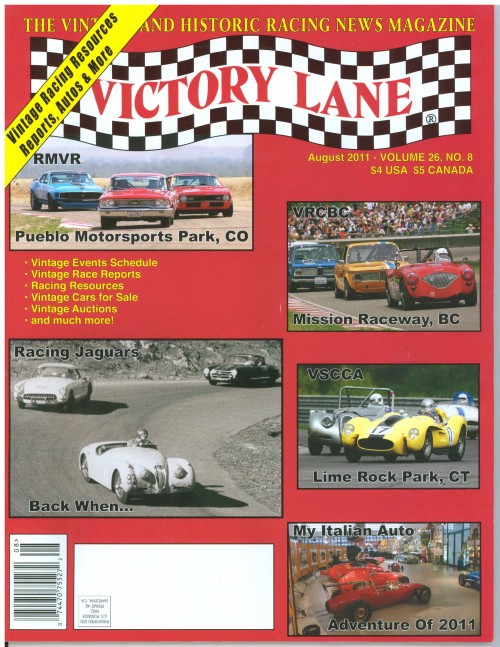 Victory Lane Magazine is a 'Must Read' for all Vintage Auto Racing fans. The monthly, which now also includes vintage rallies, concours and special events, covers the sport like no other periodical. Just click on the cover above to go to the Victory Lane website, which has the latest 'hot news' in the Vintage Racing world, as well as many interesting stories and links to useful information; and where you can easily order your own subscription online.
The August issue has just been published. It includes a report on the 2011 BC Historic Motor Races with many great photographs by Marshall Autry and Jim Moody. If you don't already have your own copy, you can read the story here.