Archive for the 'BC Historic Motor Races' Category
It was wet but it was fun! Go to the BCHMR's own web site (www.bchmr.ca) for the complete results and photos of this year's event. A big 'Thank You!' from the VRCBC to everybody who entered and volunteered their time. See you again next year.
For the last while, the members of the VRCBC have been focused on the 25th running of the British Columbia Historic Motor Races (BCHMR), which were held at Mission Raceway Park Road Course over the August 4th-5th weekend.
The 2012 BCHMR has it own web site: www.bchmr.ca (or just click here). In addition to all of the pre-event information, that site is where you can now find all of race results and photos.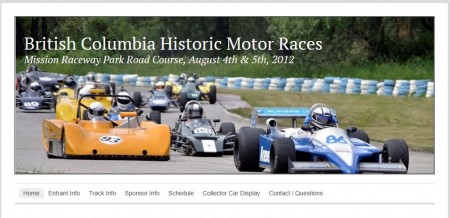 The event-specific web site for the 2012 BCHMR is growing quickly. This is a more convenient channel to provide the latest information to entrants, sponsors, the media, spectators and of course, VRCBC members. The latest addition is information on the special lodging deal at the Best Western and some great in-car videos from last year's event.
Check the site out here.
The Sports Car Club of BC has just announced this year's race schedule. Go to their website (www.sccbc.net) and click on Schedule in the left column.
Our BC Historic Motor Races will be held on the August 4-5 weekend.
The key weekends for the VRCBC are:
March 18, 24-25: SCCBC Driver Training
April 14-15: CACC Weekend #1 – our REVS #1 races will be on Sunday, April 15th
May 12-13: CACC Weekend #2 – our REVS #2 races will be on Sunday, May 13th
June 23-24: CACC Weekend #3 – our REVS #3 races will be on Sunday, June 24th
July 14-15: SCCBC Driver Training
August 4-5: BC Historic Motor Races (REVS #4)
September 22-23: CACC Weekend #4 – our REVS #5 will be on Sunday, September 23rd
October 6-7: CACC Weekend #5 – our REVS #6 will be on Sunday, October 7th
All of these dates have been added to our 2012 Events Calendar (here). Note that one of these REVS dates will likely change because we are discussing a possible date swap with SoloSprint (who run on Saturdays) that will provide each of us with one double event weekend during the season, making it more cost-effective for entrants, particularly those with higher travel costs.
Stay tuned for more announcements – coming soon.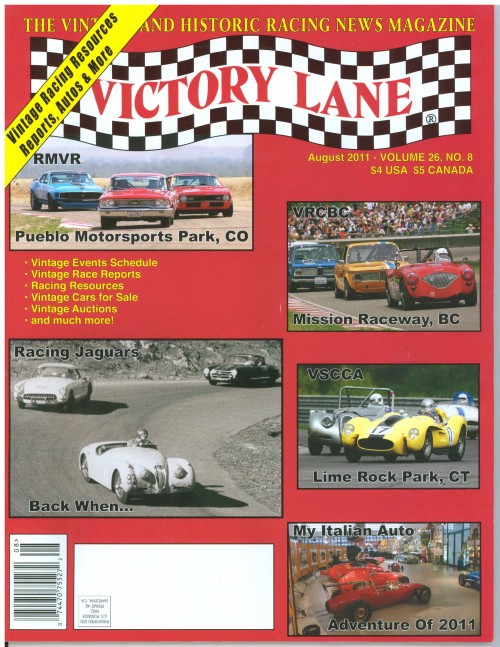 Victory Lane Magazine is a 'Must Read' for all Vintage Auto Racing fans. The monthly, which now also includes vintage rallies, concours and special events, covers the sport like no other periodical. Just click on the cover above to go to the Victory Lane website, which has the latest 'hot news' in the Vintage Racing world, as well as many interesting stories and links to useful information; and where you can easily order your own subscription online.
The August issue has just been published. It includes a report on the 2011 BC Historic Motor Races with many great photographs by Marshall Autry and Jim Moody. If you don't already have your own copy, you can read the story here.
The Vancouver Mini Club is the natural home for all enthusiasts of the classic Mini in the area. Their website ( www.vancouverminiclub.ca/ ) and its online forum and $wap and $hop are great sources for Mini-related activities, information and parts. (Classic Minis always need parts!) Some of the Club members attended the BCHMR and displayed their cars in our Car Corral. You can read about their experience at the track, as well as some other stories, in the Summer 2011 edition of their SCooper newsletter. Just click here.
Ralph Zbarsky hogs the camera (and watches his mirrors!) – Paul Bonner photo
We are getting some great shots from the photographers who attended the BC Historic Motor Races – Racing at the River's Edge – at Mission Raceway Park Road Course over the June 11-12 weekend.  The Paul Bonner shot above illustrates the action in one of the Group 1 races.
UPDATE:

More of Paul's photos are available

here

.

Small samples of  some of Tony Ioannou's photos are shown below. You can check out his over 500 photos at:
Gerry Frechette has literally hundreds of photos on his (new) photo website: here   - Click on the  "All My Photos" link. And if you were there as a worker or just wandering through the Paddock, check his "Pits & People" selection – Gerry probably has one of you!
Marshall Autry has some action photos on his site: here – Click on the "Vintage Racing" album.
UPDATE: Check out Brent Martin's photos: here
The VRCBC was very pleased to have legendary Canadian race car designer, builder and driver, Bill Sadler, as their Guest of Honour at the 2011 BC Historic Motor Races. Bill has had a fascinating career with both race cars and innovative aircraft design and construction. (See the story in the BCHMR program here.)
Bill drove the 1959 Sadler Formula Junior (seen above) for the first time in about 50 years during a lunch time, on-track demonstration with Merrill Faulk in the thundering Burnett Mk 2 Can Am car. (Bill was good enough to let Merrill go by, so he could lead a few laps as well!)  This Sadler Formula Junior (known as "Aunt Marge") has a long history with VRCBC members. It was owned, initially restored and raced by long-time member Bob Smith. It is now owned by member Myles Winbigler, who has just completed another restoration and continues to race it.
In addition to meeting many of the those attending the event, Bill was an active participant in the traditional Saturday night barbecue entertainment. Thanks for coming Bill; we very much enjoyed having you as our special guest.
The 2011 edition of the BC Historic Motor Races is now in the books. There was some excellent racing, the weather was perfect and everyone had a great time. There will be stories and photos online very soon, but thanks to the hard-working folks at Timing & Scoring, the final results are already available. You can check them out under the BCHMR 2011 menu or go there directly by clicking here.
Tom Johnston's 1990 Canadian Formula Atlantic Champion Ralt RT4 was one of the many star attractions at the Vancouver International Auto Show, which ran from March 29th to April 3rd at the Vancouver Convention Centre. Racing fans were very pleased to hear that the famous car is being "de-mothballed" and will be racing for the first time in 20 years at this year's BC Historic Motor Races on the June 11th – 12th weekend. The Ralt was in the Classic Alley section of the Show.