Interested in becoming a Member of the VRCBC or just want to renew your current one? Membership for 2017 is now open! Go to the Membership page here.
Are you interested in Vintage racing but don't know where to start? Check out the 'Starting Vintage Racing' page here.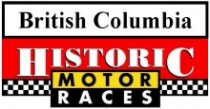 The 2017 BCHMR has its own web site. It also has results and photos on the 2012, 2013, 2014, 2015 and 2016 events.
Just click on this link: www.bchmr.ca to go directly there.
Dennis has a 'Smokin' Day'
Lotus 7 2nd – 2012 Race #1
Lotus 7 wins 2012 Race #2