Membership – New and Renewal
Interested in becoming a Member of the VRCBC or just want to renew your current one? Go to the Membership page
here.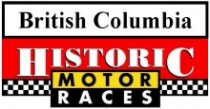 The BCHMR has its own web site with results and photos on the 2014, 2013 and 2012 events.
Just click on this link: www.bchmr.ca to go directly there.

Go to www.racing.ca to watch some excellent videos of the 2013 races at Mission Raceway. No Vintage races (yet) but the action is great!
Dennis has a 'Smokin' Day'
Lotus 7 2nd – 2012 Race #1
Lotus 7 wins 2012 Race #2