This Classifieds section provides a location for Club members and others to advertise any vehicle-related  items they have for sale or to post in the "Wanted" section for items they are looking to purchase. This is merely an information exchange; the Club does not become involved in the transactions. Contact the Webmaster (see Contacts page here) if you would like to have an ad posted.
WANTED
Looking for something? Just get in touch (here).
————————————————————————————————————————————–
FOR SALE
For Sale: Toivo Heinonen's Mazda R100
Posted: August 28, 2018
The late Toivo Heinonen developed, built and competed in this multi-time Westcoast Championship winning racing car. In the 80's and 90's this car was a standout race winner at Westwood, Portland and SIR!  It would very likely be eligible to race in the VRCBC's own REVS series at Mission Raceway Park.
This legendary Mazda has a semi-tube frame chassis with C&R adjustable coil overs, Ford limited slip third member with four link suspension and AP Lockheed four piston calipers with 13" front rotors and 12" rears.
It has a fresh 13B straight port rotary engine, a multi-plate clutch and a five speed transmission, and all racing spec safety equipment.  The car is set up and ready to race. All fiberglass moulds and body panels, plus all spares and applicable parts (brake pads, wheels, engine parts, etc.) are included. Toivo spent thousands of hours prepping this to win.
An enclosed racing car trailer is also available.
Price: $20,000 for the car and all spares or $25,000 including the trailer and race tools.
For further information and additional photos, contact Jari by phone or text at: (250) 299-5528 or by email at: jariheinonen@live.com
————————————————————————————————————————————–
For Sale: 1976 Caldwell D13 – Formula Vee
Updated: June 28, 2018
A championship winner 'back in the day', this 1976 Caldwell D13 has a complete log book dating from 1981 until it was last raced in 2016. The car has passed tech inspection in both Canada and the US. Since last raced, the car has been completely rewired using quick release connections wherever possible and the bodywork has been fully stripped, refurbished, painted and new fittings installed. It has the SCCA Kevlar protection strips along both sides of the body.
The refreshed engine has the usual 1200 cc barrels on a 1600 cc block, with an EMPI sump. It also has a new oil cooler and trailing arms, and the fire suppression system is fully charged. A full cockpit tonneau cover (red) is included.
The D13 is well known to suit larger drivers and this one also has an added roll bar height extension for increased clearance above the helmet. This car needs some simple ducting to the new oil cooler and a new safety harness.
Update: Asking: CDN$ 7,050 OBO
The following spares could be included with the car in a (mix and match) package deal or sold separately. Asking prices in CDN$:
One (1) nose section, fully refurbished and painted to match: $600
One (1) refreshed engine, 1200 cc barrels on 1600 cc crankcase with EMPI sump: $2,500
Four (4) 1200 cc barrels @ $40: $160
One (1) spare carb with intake manifold: $500
Two (2) new TRW (993) steering boxes @ $135: $270
One (1) complete VW 'hub to hub trans-axle': $1,100
Five (5) new trailing arms @ $135: $675
Four (4) Hoosier Vintage TD Tread tires 120/5.90-15 (used once): $600
Four (4) Hoosier (practice) slicks incl. rims (currently on car) @$50: $200
Other misc. items (e.g., rear hubs, brake shoes, valve covers, etc.): POA
Single axle trailer with tire rack and spare: $750
Located in Greater Vancouver area.
For further info, contact Bruce by email at: ajamie@shaw.ca or by phone at: (604) 925-2432
————————————————————————————————————————————–
For Sale: Race Gear
Posted: June 20, 2018
Two personal race gear items for sale due to retirement from racing.
The cooling vest is an Elite Hybrid Sport model, size XL (38"-40").  It comes complete with four cool packs and a tote bag.  It was worn only four times – always over a tee shirt – and is in new condition.  Price: $175.
The HANS Device is a Model 20 Sport 11, size Medium with sliding tethers and helmet anchors. It was worn only a half dozen times and is in new condition.  Price: $400.
For further info, contact Hugh by email at: hughrichards36@shaw.ca.  or by phone at (604) 988-3971
————————————————————————————————————————————–
For Sale: Set of Vintage Mag Wheels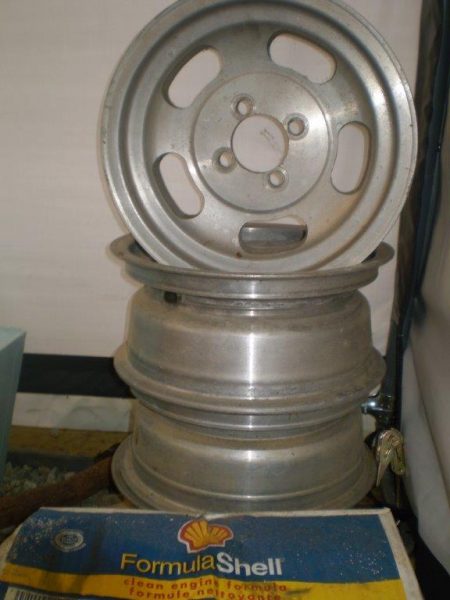 Posted: June 14, 2018
This set of four Vintage slotted mags will fit a Triumph or (perhaps) a Lotus. The wheels are 6 inches wide, with a 4 bolt pattern and 4 inches between bolt centres ('4 x 4 inch'). They are in good condition.
Asking $250.00.
For further info, contact Lois by email at: loisrandle@hotmail.com
————————————————————————————————————————————–
For Sale: 1980 MGB Roadster
Posted: May 21, 2018
This beautiful MGB was originally purchased from Trojan Motor Sales in Prince George in May, 1979.  The official paint colour is Flame Red.  It currently has ICBC collector plates but it could be easily be used as a daily driver.
Over the years, this MGB has had two complete frame-up restorations by British car specialists, Owen Automotive on Vancouver Island. The upgrades and improvements have included a stainless steel exhaust, a Laycock de Normanville LH type electric overdrive transmission, Pertronix electronic ignition, two (retrofitted) SU HIF4 carburettors, a urethane bushing kit throughout, a new carpet and "MG" floor mats, a working clock plus original working radio and cassette player, a period correct boot luggage rack and Evans Permanent Coolant (no antifreeze change required). A new convertible top and tonneau cover plus a new fibreglass California hardtop, a luxury car cover, as well as an assortment of spare parts are also included.
A variety of handy tools, guides and documents will also be provided to the lucky new owner: Pozidrive bits (#0 to #4), tapered square ½" bit (for differential), brake adjust spanner, original jack (not recommended!), Guide To MGB Maintenance (DVD), a Haynes MGB ('62 -'80) Repair Manual plus the original Owner's Manual, professional photographs, and all original work receipts.
The asking price of only Cdn $11,900 is very attractive relative to recent fair market value appraisals.
For further info, contact David by phone: (250) 474-1142 or email: davidchristmas@gmail.com
————————————————————————————————————————————–
For Sale: Racing Car Trailer
Posted: March 8, 2018
This fully equipped trailer will carry almost any race car except the big sedans, sleeps four, full kitchen, air conditioning, gas furnace, toilet/shower, plus small workshop, generator and winch.
Asking $17,500 obo.
For further information, call John at (250) 447-6205.
————————————————————————————————————————————–
For Rent: Vehicle Storage Space near Mission Track
Posted: November 17, 2017
Storage space for multiple vehicles available in a warehouse in North Abbotsford approximately 20 minutes from Mission Raceway Park.
For further information, contact Evan by email at: evanwilliams@shaw.ca
————————————————————————————————————————————–
For Sale: 1962 MGA Mk2 Racing Car Project
Posted: October 22, 2017
This 1962 MGA Mk2 1600 roadster has a very interesting racing history from the 1970's and 1980's. It still has its factory – original front disc brakes and an MGB engine and gearbox, which are currently out of the car.
This classic 'time piece' is rust-free and straight, and would make a great Vintage racer.
Asking: $8,500 OBO
For further info contact Eldon by email at: eldonsculpt@gmail.com or by phone at: (403) 922-3370
————————————————————————————————————————————–
For Sale: Hoosier Slicks
Posted: October 7, 2017
I have a set of properly broken in Hoosier A6 slicks for sale with only four heat cycles on them. The sizes are fronts 225/45ZR17 and rears 245/40ZR17. They are located in Vancouver close to UBC.
Price:$250 for the set, pickup only.
For further information, contact Ray by email at: rerfanifar@gmail.com
————————————————————————————————————————————–
For Sale: 2017 Eliminator Cargo Mate Race Car Trailer
Posted: September 27, 2017
This 32 foot Eliminator Cargo Mate trailer has many features, including the following:
triple 6000 lb. axles, Polar White smooth aluminium, 12″ additional height, 60″ extended triple tube tongue, hydraulic tongue jack, upgraded to 60″ double side doors (from 48″), aluminium pull-out step, wider rear ramp door (4″ wider), 13,500 BTU air conditioner with heat strip, brace and wire for roof air, upgraded 36″ x 33″ vented generator door, insulated interior generator compartment, in-floor battery compartment, under-floor spare tire compartment, 235 80 R16 tire and 8 lug steel wheel, additional tail lights, spread axle & fender upgrade, upgraded to metal door hold backs, super stock package,
It also has:
GFI wall receptacles (interior/exterior; 2 gang), bogie wheels (2-12″ diameter;steel), 110 volt interior wheel wall receptacles (2 gang), black aluminium cabinets, 7 drawer tool chest with ball bearing slides, silver interior walls, AM/FM/CD/Cassette stereo with four speakers in ceiling, 36″ ATP covered flap w/3″ dock bumpers on ramp door, 36″ carpet wainscot upgrade, rubber tread plate on interior wheel boxes, gas shock for gen door, 12 volt cut-off switch, upgraded to 45 amp 110 v/12 v power center in overhead R/S, upgraded to 18″ recessed LED lights (optronics), added 3 – 18″ recessed LED lights (optronics), 2 ft Moody exterior lights, upgraded to 9″ bottom rim.
Asking: $32,000 CDN
For further info, contact Dana by phone at: (780) 887-4414
————————————————————————————————————————————–
For Sale: 2012 Car Hauler Open Trailer 
Posted: August 13, 2017
This 7,000 lb. gross wight car hauler open trailer was built in 2012. It is 20 ft long overall (including the tongue) with a 16 ft deck, and has dual 3500 lb axles, electric brakes, 15 inch radial tires and the original steel ramps.
Additional equipment includes: four light weight aluminium ramps (including ramp extensions for low clearance), a California Immobilizer anti-theft lock, a coupler lock, an 8,000 lb Smittybilt amphibious winch with custom pulley, a regular 2 5/16 inch ball and mount and a weight distribution hitch 2 5/16 inch ball and mount.
Price: $4,100.
For more information, please contact Philip Linzey by phone at: (604) 240-0864
————————————————————————————————————————————–
For Sale: 1986 Honda Integra Racing Car
Posted: May 2, 2017
This 1986 Integra competed successfully at Mission for a number of years. With its fresh engine and a current logbook, it is ready to go; a 'turn-key' racing car.
Price: $3,000
For further information contact Mike by email at: olddatsunracer@gmail.com
————————————————————————————————————————————–
For Sale: Miscellaneous Tools and Equipment
Posted: January 5, 2017
Garage clean up for the New Year:
Tool chest: black, eight drawer, lockable – approx. 24 inches x 10 inches x 10 inches
Mastercraft tool cabinet: red, three drawer, hinged cover panels
Air tools: Schultz gun, board sander, airbrush set, rotary sander, paint gun
Record bench vise with soft jaws – 4 inches
Floor jack – 3 ton
Jack stands – one pair
Creeper with built-in tool trays
Car ramps – one pair
Rigid shop vacuum
Black & Decker router with bits
Two Black & Decker two shelf plastic shop cabinets – approx. 36 inches x 30 inches x 12 inches
Located in Maple Ridge. Reasonable offers accepted.
For more information, contact Malcolm by email at: malcolmjmuir@hotmail.com
————————————————————————————————————————————–
For Sale: 1965 Sunbeam Alpine Series V Vintage Racing Car
Posted: June 21, 2016
This freshly painted Alpine is a well-known, long time SOVREN F Production racer. It has less than 10 hours on its rebuilt engine, which features roller rockers, Ross Racing Pistons, a .030″ overbore giving 1725 cc, and an 11:1 compression ratio.
Asking US$9,500.
For more information contact Paul by email at: pauldenisarcher@hotmail.com or by phone at: (425) 221-5398
————————————————————————————————————————————–
For Sale: Motoring Books
Posted: November 20, 2015
This is the perfect place to look for a reasonably-priced gift for that motor racing enthusiast or gear head in your family, or just 'a little something' for yourself for that matter!
There are over 220 titles for sale covering the full spectrum from books about individual marques, to racing, to restoration, to …. well, just about everything! The listing can be downloaded in PDF here.
To obtain a higher quality list in PDF or for more information, contact John by email at: johnniebee 'at' shaw.ca
————————————————————————————————————————————–
For Sale: Two Classic Race Engines
Posted: March 19, 2015
This is a very rare opportunity to acquire, either individually or as a pair, legendary Weslake Engineering-designed race derivatives of American V8 stock blocks from a private collection. One was a joint venture between Weslake Engineering and Dan Gurney; the other was a Chevrolet factory-commissioned enterprise with Weslake in conjunction with Don Yenko.
Summary spec sheets are available for the Gurney Weslake (here) and the Weslake Chevy (here).
For further information and photos, contact Guy by email at: guido36@me.com or by phone at: (714) 425-1136.
————————————————————————————————————————————–
For Sale: 1971 Brabham BT35/18
Posted: January 20, 2015
This example of this very successful Brabham is currently undergoing restoration in Oregon. It is offered for sale together with a large inventory of spare parts. Click here for the complete information sheet, which includes additional photos.
The asking price is US$65,000.
For further information, contact Bob Slusher by email at: Bobvair@comcast.net or by phone at: (503) 720-0040
————————————————————————————————————————————–
For Sale: Vintage Race Suit and Shoes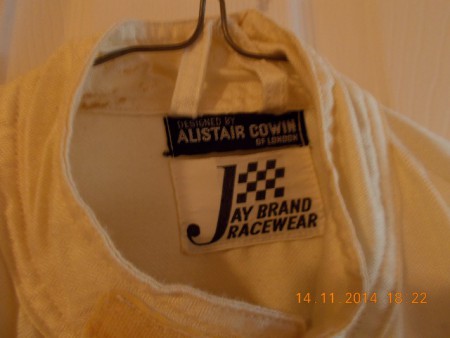 Posted: December 15, 2014
This vintage Nomex driving suit and Trackstar racing shoes were only used during Driver Training at Westwood in the 1970's. They would be the perfect cosy outfit for bench racing by the log fire on those cold winter evenings, or as part of an old racing car display.
The asking price is $150.
For more information, contact Witt by email at: wittmue@hotmail.ca.
————————————————————————————————————————————–
For Sale: New Honda Generator
Posted: October 30, 2014
This brand new Honda EU 2000i generator has never been started; it has not even been filled with gas yet! It comes with the bill of sale and the warranty papers.
The price is $1250.00 firm.
For further information, contact Ian by phone at: (778) 988-6815 or by email at: ianwoodesq@gmail.com
————————————————————————————————————————————–
For Sale: 1955 Austin A55 Panel Van 
Posted: September 27, 2014
This must be the ultimate 'Vintage Sleeper'!
This very rare 1955 Austin A55 Panel Van has been discretely updated with a very fresh MGB engine with MGB overdrive transmission, MGB Salisbury rear axle, MGB rack & pinion steering and a two-tone paint scheme.  It has BC Collector plates, and has passed both Air-Care and MV inspections.
Asking only $12,000.
For further information, contact Ralph by phone at: (604) 230-2014 or by email at: zedeng@shaw.ca
—————————————————————————————————————————————
For Sale: Gauges
Updated: September 15, 2015
For sale: A matching set of three brand new Stewart Warner gauges: oil pressure, water temperature and ammeter (deluxe 2.5 inches dia.) including the custom mounting plate – $100 for all.
For further information, contact Bernie at (250) 404-0370 or email: twobrits@telus.net
—————————————————————————————————————————————