This Classifieds section provides a location for Club members and others to advertise any vehicle-related items they have for sale or to post in the "Wanted" section for items they are looking to purchase. This is merely an information exchange; the Club does not become involved in the transactions. Contact the Webmaster (see Contacts page here) if you would like to have an ad posted.
WANTED
Looking for something? Just get in touch (here).
————————————————————————————————————————————–
FOR SALE
For Sale: Pair of Honda CRX's for Vintage Racing Team – Only One Left!
One of these CRX's has already been sold and will be racing at Mission during the 2021 season! There is only one left!
For information on its specs, the available spares and the pricing, call or text Keith at: (604) 209-5943.
————————————————————————————————————————————–
For Sale: Classic Headlight Stone Guards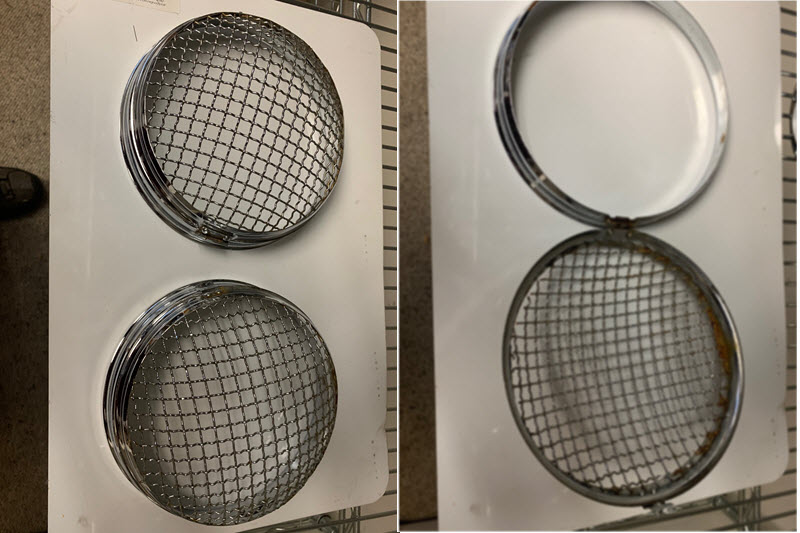 Posted: January 4, 2021
These 7 inch headlight stone guards will give your car that classic Vintage look. Several pairs are available.
Price: $75.00 (and down) a pair.
For further information, call Ian at: (778) 988-6815.
————————————————————————————————————————————–
For Sale: Pair of Bosch Headlights
This pair of used Bosch 7 inch H4 headlight units come with good bulbs.
Price: $95.00
For further information, call Ian at: (778) 988-6815.
————————————————————————————————————————————–
For Sale: BC Historic Motor Races Commemorative Shirts
Updated: January 2, 2021 
We still have a few of our high quality BCHMR commemorative shirts available at a very attractive price. The white Under Armour brand ones are undated. They tend to fit larger, so those labelled Small actually fit Medium, and those labelled Medium are actually Large. The blue ones are from the 2019 BCHMR and we some in each of the sizes: Small, Medium, Large, X Large and 2X Large.
Price: $20 each, with shipment extra if applicable.
For further information or to place an order, call Ian at (778) 988-6815.
————————————————————————————————————————————–
For Sale: Alfa Romeo Wheels
Posted: November 26, 2020
These four rims from a 1985 Alfa Romeo are in excellent condition (although a little dirty right now!). They are size 15 x 7 with a 5 x 98 bolt pattern. Open to reasonable offers.
For further information, contact Mike by email at: olddatsunracer@gmail.com
————————————————————————————————————————————–
For Sale: 1978 Triumph Spitfire Project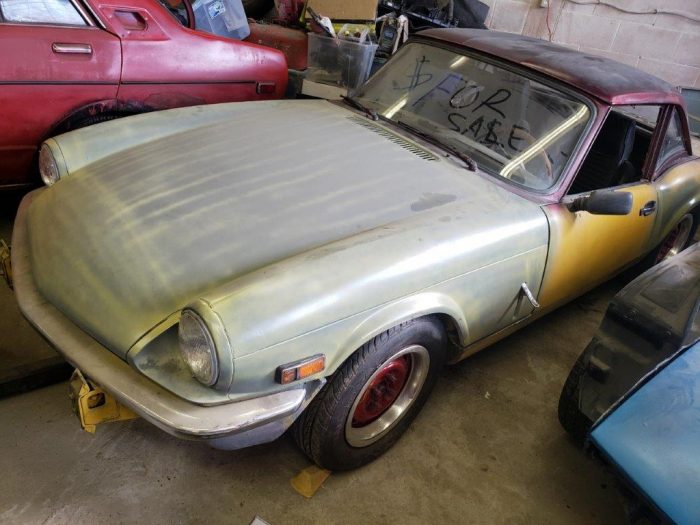 Posted: September 19, 2020
This 1978 Triumph Spitfire has been upgraded with an inline six cylinder engine – similar to a Triumph GT6. The engine can be seen running  The car is located in the Greater Vancouver area.
For further information, contact Ali by phone at: (604) 786-2435
————————————————————————————————————————————–
For Sale: Racing Boots
Updated: January 4, 2021
Looking for some budget-priced racing shoes to get started? Here is your opportunity! These Simpsons driving shoes are Size 10 Wide. Asking $40.
For further information, contact Ian by phone at: (778) 988-6815
————————————————————————————————————————————–
For Sale: 1960 Austin Healey (Bugeye) Sprite
Updated: January 4, 2021
This 1960 Austin Healey Sprite would be the perfect project for a Bugeye enthusiast to either restore or to turn into a great little Vintage racer! (The VRCBC would love to have you join us at Mission with another hot Bugeye!) The rust free body has been blasted and is all in primer ready for you to finish off, and it also comes with the classic factory hard top.
You can install any of the three different engines – all in great condition – that are included in the sale. They cover the spectrum of the sporting BMC A-Series; 948 cc, 1048 cc, and a 1275 cc.
Also in the package are 'tons' of new / original parts including three gearboxes, three differentials, four(!) sets of SU HS2 (1.25 inch) carbs, a like-new wiring harness, plus disc brakes and two sets of steel / wire wheels.
The car is located in White Rock, BC (That's just two miles from Blaine, WA.). Any reasonable offer considered.
For further information, contact Bill by email at: bill.carnie@yahoo.ca
For Sale: Datsun 240Z Engine
Posted: January 19, 2020
This Datsun L24 engine has been fully rebuilt and features polished intake and exhaust manifolds, and a set of downdraft Weber carburetors.
Asking $4,000 OBO. The engine is located on Vancouver Island.
For further information, contact Garnet by email at: garnet@slipangleracing.com or by phone at: (778) 967-2880 (Text is preferred.)
————————————————————————————————————————————–
For Sale: Lotus Books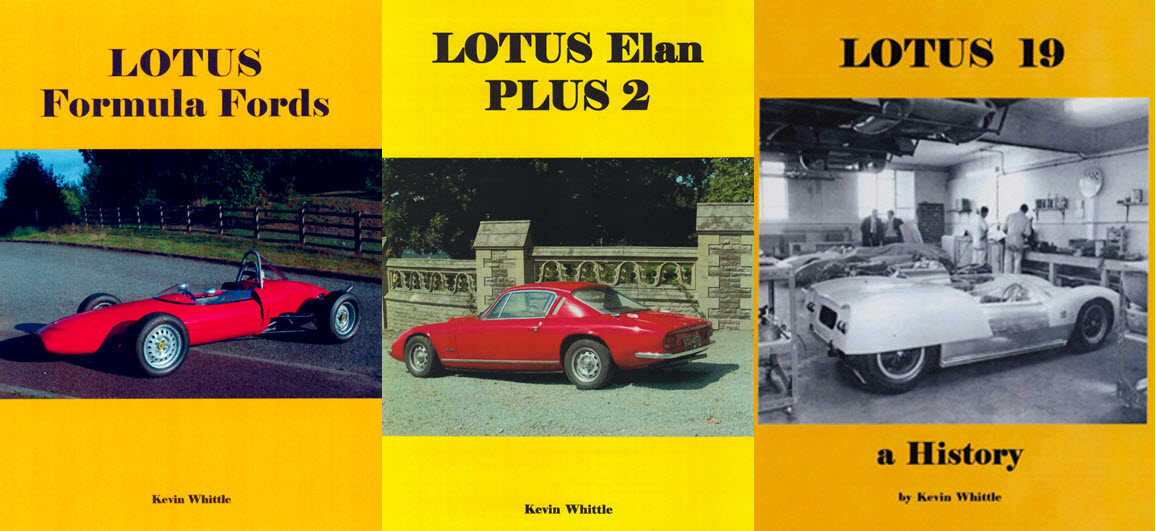 Posted: January 18, 2020
These three books are just some of the publications about Lotus written by Kevin Whittle of England.
Kevin's lifelong passion for Lotus cars has lead to the ownership (and usually the restoration) of a whole cross section of famous models including: +2 Elans, S1, S2 and TC Europas, Mk1 Lotus Cortina, Lotus XI, Lotus 18 and 22 Formula Juniors, Lotus 19 Buick, Lotus 23B, and 35-TC, L-51A and 61 Formula Fords. He has raced his Lotus 35-TC in the UK and Italy, and hill climbed his Lotus XI Climax, Lotus 46 and Lotus 19 Buick.
Kevin's books are very thorough as can be seen by downloading the Table of Contents (in PDF) of two of them (Lotus Elan and Lotus 19) plus a review of the Formula Ford book (here). Check his web site (here) for a full listing of his excellent publications and information on how to order them.
————————————————————————————————————————————–
For Sale: Triumph Differential Gear Set
Posted: August 15, 2019
'Make your Triumph really go!'
A set of brand new 4:11 gears for a Triumph GT6 or Spitfire for sale.  These currently sell for about 380 Pounds Sterling.
Asking $300 obo.
For more information, contact Phil by phone at: (604) 576-2876 or by email at: phil@symmetricmachining.ca
————————————————————————————————————————————–
For Sale: 5Zigen FN01R-C Wheels and Hankook Ventus HRII Tires

Updated: June 6, 2019
Two sets of 5Zigen FN01R-C aluminum racing wheels in excellent condition. You can chose rim width to make a set of four:
Four @ 17 inch x 10 inch JJ – five bolt pattern 4.5 inch (114.3 mm)
Four @ 17 inch x 9 inch JJ – five bolt pattern 4.5 inch (114.3 mm)
Four new Hankook Ventus HRII tires with zero mileage:
Two @ 255/40R-17
Two @ 275/40R-17
UPDATED – Asking $990. Please call for clarification of application and rim widths.
For further information, contact Jari by email at: jariheinonen@live.com  or by phone at: (250) 299-5528
————————————————————————————————————————————–
For Sale: 1985 Mazda RX-7 Racing Car
Updated: January 4, 2021
This excellent race ready '85 Mazda RX-7 GSL-SE is ready to go to a new owner for many years of affordable racing.
I've had this car for the last five years next to my '67 Alfa Romeo step nose. I've decided to concentrate on racing Alfas as that is my real passion, so I am reluctantly saying goodbye to this RX-7, even though it is actually faster and handles better!
The engine has just been rebuilt by Mazda Rotary specialist Barry Allen and has a mild Bridgeport with about 200 hp. I chose the mild port for reliability.  It only has about 2 hours on it since being run in.
It has the 13A engine with race rotors and crank, and prepped housing for better cooling. It has a Holley 650 set-up with racing beat manifold and exhaust, fully adjustable suspension all around and four sets of wheels and tires. It has a fuel cell, safety harness and full (BC accepted) roll cage with the wheel well braces. It runs on normal fuel.
The car is well set-up. I raced it in CACC Vintage but it is very capable of running in regular sports car club events as well. It is truly race-ready; I managed sub 1:20 lap times at Mission during the Vintage races in October 2018.
Asking price: $9,995
For further information contact Roger by phone at: (587) 436-5970
————————————————————————————————————————————–
For Sale: Racing Car Trailer
Posted: March 8, 2018
This fully equipped trailer will carry almost any race car except the big sedans, sleeps four, full kitchen, air conditioning, gas furnace, toilet/shower, plus small workshop, generator and winch.
Asking $17,500 obo.
For further information, call John at (250) 447-6205.
————————————————————————————————————————————–