This Classifieds section provides a location for Club members and others to advertise any vehicle-related  items they have for sale or to post in the "Wanted" section for items they are looking to purchase. This is merely an information exchange; the Club does not become involved in the transactions. Contact the Webmaster (see Contacts page here) if you would like to have an ad posted.
WANTED
Looking for something? Just get in touch (here).
Wanted: Racing Car
Posted: October 21, 2020
Looking for an interesting 1950-1996 racing car. What do you have in your garage that you would like to sell and see racing on the track again? Don't be shy! Anything considered; let me know what you have.
Contact Phil by email at: p.roney@shaw.ca
————————————————————————————————————————————–
Wanted: Triumph TR6 (or similar) Wheels and Tires
Posted: February 25, 2019
Looking for the following:
A set of four 13 x 7 wheels (preferably aluminium) with a Triumph TR6 style bolt pattern, which is 4 x 4.5 inch (114.3 mm).
A set of four 15 x 7 wheels with the same Triumph TR6 style bolt pattern.
New or lightly-used 205 / 50 / 15 racing tires.
Contact Mike by phone at: (250) 218-4940 or by email at: MZbarsky@yahoo.com
————————————————————————————————————————————–
FOR SALE
For Sale: 1978 Triumph Spitfire Project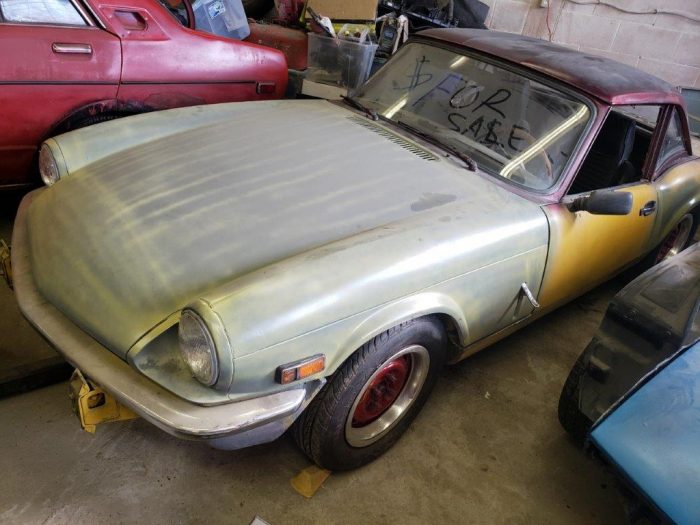 Posted: September 19, 2020
This 1978 Triumph Spitfire has been upgraded with an inline six cylinder engine – similar to a Triumph GT6. The engine can be seen running  The car is located in the Greater Vancouver area.
For further information, contact Ali by phone at: (604) 786-2435
————————————————————————————————————————————–
For Sale: Pair of Weber DCOE 40 Carbs 
For Sale: This gently-used pair of genuine Weber DCOE 40 carbs with accessories and hardware  The carbs come with a small selection of jets, a Warneford intake manifold for a Volvo B18/B20 engine, throttle linkage and mounting hardware, plus a pair of custom K&N 3 inch deep air cleaners. Price: CDN $799 – shipping extra (located near Nanaimo, BC)
For further information, contact Gil by phone at: (250) 722-9492 or by email at: gistuart (at) shaw (dot) ca
————————————————————————————————————————————–
For Sale: Racing Boots
Updated: August 23, 2020
Looking for some budget-priced racing shoes to get started? Here is your opportunity!
These Simpsons driving shoes are Size 10 Wide. Asking $40.
———————————————————————
These 'low mileage' driving boots are Size 10 Wide. Asking $75.
For further information, Contact Ian by phone at: (778) 988-6815
————————————————————————————————————————————–
For Sale: Racing Prints
Posted: June 22, 2020
These limited edition prints are of two of motor racing's most legendary drivers at one of its most legendary tracks, Goodwood. Stirling Moss sliding his winning Aston Martin through Madgewick  bend at the 1956 Easter Monday meeting (#45 of 400) and Jim Clark exiting the Chicane in his Aston Martin Zagato in the 1961 Tourist Trophy (#7 of 500). The artist is Barry Bowyer. Each print measures 12 inches x 18 inches. Asking $100 each.
Contact Keith by email at: brabham90@gmail.com
————————————————————————————————————————————–
For Sale: 1967 MGB Vintage Racing Car
Posted: April 3, 2020
This 1967 MGB was converted to a race car by former SOVREN president Ken Bottini and Robin Bee of B&B Racing in the early 1990's. Bottini was the resident of his local MG club for many years and built this car based on the '63 Hollywood Motors Sports Cars. This MGB has been raced primarily in the Northwest. Mechanically this MGB includes Carillo rods, Venolia pistons, a deep, baffled oil pan, Accusump, Petronix ignition, a close ratio gearbox and Quaife limited slip differential. The car is said to remain street legal and includes a stock windscreen. This MGB is sold with a clean Washington State title.
The car is fitted with Minilite-style wheels. Both the pictured quick-release cut-down windscreen and a full-height stock windscreen are included with the sale.
The interior includes a stock MGB dash, door panels and instruments. An auxiliary oil temperature gauge is mounted below the dash to the right of the center stack. The seat is an OMP and the seller states that the safety equipment is up to date, save for the harnesses.
The 1800 cc engine was rebuilt in 2017 and raced in 2009, 2010, 2011. Includes a deeper, baffled oil pan, Accusump and Petronix ignition. The car is also equipped with a close-ratio transmission and a fuel cell. Chassis upgrades include a Panhard bar and Quaife limited slip differential.
Price: $13,000
For further information, contact Al Reid by phone at: (778) 347-6064
————————————————————————————————————————————–
For Sale: 1960 Austin Healey (Bugeye) Sprite
Posted: March 9, 2020
This 1960 Austin Healey Sprite would be the perfect project for a Bugeye enthusiast to either restore or to turn into a great little Vintage racer! (The VRCBC would love to have you join us at Mission with another hot Bugeye!) The rust free body has been blasted and is all in primer ready for you to finish off, and it also comes with the classic factory hard top.
You can install any of the three different engines – all in great condition – that are included in the sale. They cover the spectrum of the sporting BMC A-Series; 948 cc, 1048 cc, and a 1275 cc.
Also in the package are 'tons' of new / original parts including three gearboxes, three differentials, four(!) sets of SU HS2 (1.25 inch) carbs, a like-new wiring harness, plus disc brakes and two sets of steel / wire wheels.
The car is located in White Rock, BC (That's just two miles from Blaine, WA.). Any reasonable offer considered.
For further information, contact Bill by email at: bill.carnie@yahoo.ca
For Sale: Datsun 240Z Engine
Posted: January 19, 2020
This Datsun L24 engine has been fully rebuilt and features polished intake and exhaust manifolds, and a set of downdraft Weber carburetors.
Asking $4,000 OBO. The engine is located on Vancouver Island.
For further information, contact Garnet by email at: garnet@slipangleracing.com or by phone at: (778) 967-2880 (Text is preferred.)
————————————————————————————————————————————–
For Sale: Lotus Books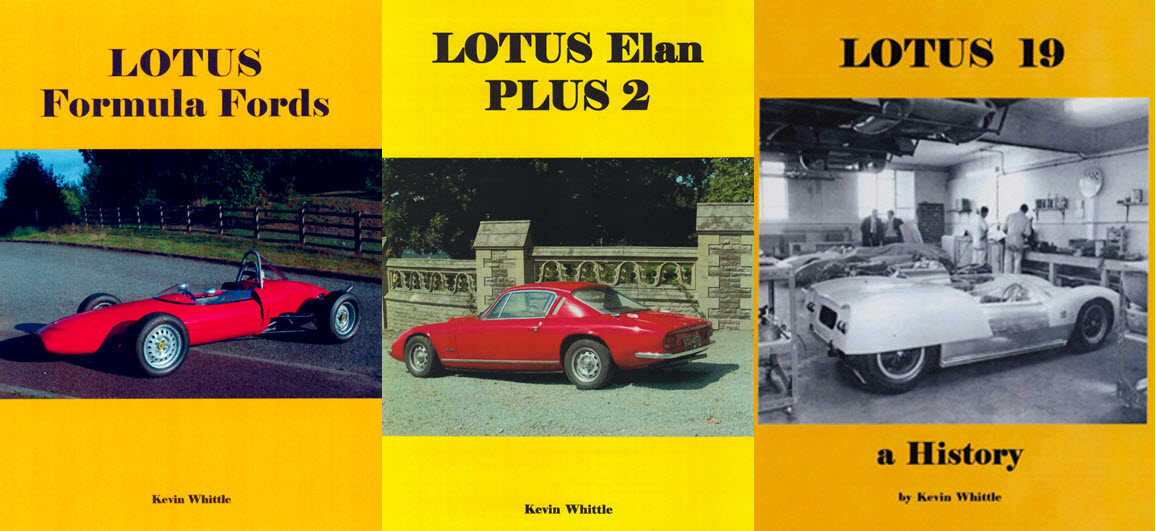 Posted: January 18, 2020
These three books are just some of the publications about Lotus written by Kevin Whittle of England.
Kevin's lifelong passion for Lotus cars has lead to the ownership (and usually the restoration) of a whole cross section of famous models including: +2 Elans, S1, S2 and TC Europas, Mk1 Lotus Cortina, Lotus XI, Lotus 18 and 22 Formula Juniors, Lotus 19 Buick, Lotus 23B, and 35-TC, L-51A and 61 Formula Fords. He has raced his Lotus 35-TC in the UK and Italy, and hill climbed his Lotus XI Climax, Lotus 46 and Lotus 19 Buick.
Kevin's books are very thorough as can be seen by downloading the Table of Contents (in PDF) of two of them (Lotus Elan and Lotus 19) plus a review of the Formula Ford book (here). Check his web site (here) for a full listing of his excellent publications and information on how to order them.
————————————————————————————————————————————–
For Sale: BC Historic Motor Races Commemorative Shirts
Posted: September 16, 2019
We have a few of our high quality BCHMR 2019 commemorative shirts still available in each of the sizes: Small, Medium, Large, X Large and 2X Large. They can be purchased at any VRCBC meeting or during weekday working hours at IWE Rear Ends Only in Burnaby. They can also be mailed at extra cost. Payment is by cash or a cheque payable to the VRCBC.
Price: $20 each (shipment extra if applicable)
For further information or to place an order, call Ian at (778) 988-6815.
————————————————————————————————————————————–
For Sale: Triumph Differential Gear Set
Posted: August 15, 2019
'Make your Triumph really go!'
A set of brand new 4:11 gears for a Triumph GT6 or Spitfire for sale.  These currently sell for about 380 Pounds Sterling.
Asking $300 obo.
For more information, contact Phil by phone at: (604) 576-2876 or by email at: phil@symmetricmachining.ca
————————————————————————————————————————————–
For Sale: Westwood Trophies
A selection of four early Westwood trophies for sale.
Asking US $40 each.
For further information, contact Chip by phone at: (503) 320-7391 or by email at: chip@racecarresurrections.com
————————————————————————————————————————————–
For Sale: Kosei K1 Wheels and Kumho Tires
A set of five (You get a spare!) Kosei K1 Racing Silver aluminum wheels with Kumho Esta V710 dry slick racing tires; all new.
Wheels are 16 inch x 8.5 inch JJ with a five bolt pattern 4.5 inch (114.3 mm) and plus 37 offset. The wheels are new; they have been mounted but never driven on.
Tires are 215/40R-16, 82W. They have been high speed balanced but never used.
The current retail price for this combo would be well above $2,000.
For further information, contact Jari by email at: jariheinonen@live.com  or by phone at: (250) 299-5528
————————————————————————————————————————————–
For Sale: 5Zigen FN01R-C Wheels and Hankook Ventus HRII Tires
Two sets of 5Zigen FN01R-C aluminum racing wheels in excellent condition. You can chose rim width to make a set of four:
Four @ 17 inch x 10 inch JJ – five bolt pattern 4.5 inch (114.3 mm)
Four @ 17 inch x 9 inch JJ – five bolt pattern 4.5 inch (114.3 mm)
Four new Hankook Ventus HRII tires with zero mileage:
Two @ 255/40R-17
Two @ 275/40R-17
Asking $1,200. Please call for clarification of application and rim widths.
For further information, contact Jari by email at: jariheinonen@live.com  or by phone at: (250) 299-5528
————————————————————————————————————————————–
For Sale: Pop Up Canopy Tent
Posted: April 26, 2019
This good quality, 10 ft x 20 ft pop-up canopy tent is brand new and still in the bag. Well, it was actually used once at a wedding but never at the track!
Price CDN$300
For further info, contact Keith by email at: brabham90@gmail.com
————————————————————————————————————————————–
For Sale: Race Gear – Small Size
Updated: March 2, 2020
This race gear was only used a half dozen times and is in excellent, like new condition. Included are:
Sabelt 'Sebring' Three Layer Suit – Size 50 (Small)
OMP Gloves – Size Xtra Small
OMP Shoes – Women's Size 36 (US Size 5-6)
OMP long sleeve 'Nomex' Shirt – Size Small
OMP 'Nomex' Underpants – Size Small
Prefer to sell as a complete package for $550.
Contact Stan by email at: Stanton.Guy@gmail.com
————————————————————————————————————————————–
For Sale: 1985 Mazda RX7 GL
Posted: March 8, 2019
This 1985 Mazda RX7 GL shows only 172,000 miles (277,000 km) on the odometer. It has been properly maintained by a lady driver since 1990 and runs very well.
It has an automatic transmission. The carburettor and engine were rebuilt a few years ago. The body has some rust on the lower quarter panels but none on the frame. It could be repaired, used as an excellent parts car, or maybe even converted to a budget Vintage racer!
The car is located in Vancouver, B.C.
For further information, contact Jim by texting to or calling: (778) 866-3125
————————————————————————————————————————————–
For Sale: 1955 Cooper Mk IX F3 Racing Car
Posted: January 19, 2019
The Cooper Mk IX was the 1955 Formula 3 Champion racing car. Only four years later, the Cooper Car Company went on to win both the Formula One Constructor's Championship and the Driver's Championship with Jack Brabham. They repeated that success in 1960.  The evolution in design from these earlier Formula 3 cars is very apparent.
This car is reported to actually be one of the Cooper team cars driven by Jim Russell (who would later found the famous race drivers' school) to that 1955 world championship. The current owner purchased the car in the mid 1980's from Dr. Robert Follows of B.C. and it has been on display is his collection of cars and motorcycles since then. It has not been started or driven since that purchase.
(Note: Click on the photos for higher resolution images.)
I have a letter from Dr. Fellows describing the condition of the car and its maintenance history when sold. A copy of this letter and additional pictures are available to serious enquiries.
Asking price: $40,000
For further information, contact Al by mobile: (614) 774-4936 (Note: in the EST time zone)
————————————————————————————————————————————–
For Sale: 1985 Mazda RX-7 Racing Car
Posted: January 4, 2019
This excellent race ready '85 Mazda RX-7 GSL-SE is ready to go to a new owner for many years of affordable racing.
I've had this car for the last three years next to my '67 Alfa Romeo step nose. I've decided to concentrate on racing Alfas as that is my real passion, so I am reluctantly saying goodbye to this RX-7, even though it is actually faster and handles better!
The engine has just been rebuilt by Mazda Rotary specialist Barry Allen and has a mild Bridgeport with about 200 hp. I chose the mild port for reliability.  It only has about 2 hours on it since being run in.
It has the 13A engine with race rotors and crank, and prepped housing for better cooling. It has a Holley 650 set-up with racing beat manifold and exhaust, fully adjustable suspension all around and four sets of wheels and tires. It has a fuel cell, safety harness and full (BC accepted) roll cage with the wheel well braces. It runs on normal fuel.
The car is well set-up. I raced it in CACC Vintage but it is very capable of running in regular sports car club events as well. It is truly race-ready; I managed sub 1:20 lap times at Mission during the Vintage races last October.
Asking price: $9,995
For further information contact Roger by phone at: (587) 436-5970
————————————————————————————————————————————–
For Sale: Portable Car Lift
This portable hydraulic car lift / fork lift is powered by a 12 volt battery and will lift a full size car. It is the perfect solution for the racer with a small garage.
Asking $2,000 (or for a limited time $1,750 OBO for current VRCBC or SCCBC club members, or other local racers).
For further info, contact Keith by email at: brabham90@gmail.com
For Sale: 1966 Hayman SR2 CanAm Racing Car
Updated: October 17, 2018
Here is an opportunity to own a real piece of Canadian road racing history! This 1966 Hayman SR2 was designed and built by Roy Hayman of Hayman Racing Components in Ontario. (Roy was a design engineer with Canada's fabled Avro Aircraft Company. Note the patriotic Maple Leaf pattern ventilation holes drilled in the rear panel! )
It features an aluminium hand-formed body over a chrome-moly tube chassis. It is powered by an aluminium Traco Olds V8 with Webers and has a ZFDS25 GT40 gearbox, plus Girling alloy brakes and magnesium wheels.
This car ran in CanAm races at Mosport and Le Circuit Mont Tremblant, with its best finish being a second at the Quebec track with driver Hugh Dixon, under 'Miss Contessa Cigarette' sponsorship.
Asking price: $120,000. Will consider street vehicle trades.
For more photos and information, contact Walt by email at: evgelk@aol.com
————————————————————————————————————————————–
For Sale: Race Gear
Posted: June 20, 2018
Two personal race gear items for sale due to retirement from racing.
The cooling vest is an Elite Hybrid Sport model, size XL (38"-40").  It comes complete with four cool packs and a tote bag.  It was worn only four times – always over a tee shirt – and is in new condition.  Price: $175.
The HANS Device is a Model 20 Sport 11, size Medium with sliding tethers and helmet anchors. It was worn only a half dozen times and is in new condition.  Price: $400.
For further info, contact Hugh by email at: hughrichards36@shaw.ca.  or by phone at (604) 988-3971
————————————————————————————————————————————–
For Sale: Set of Vintage Mag Wheels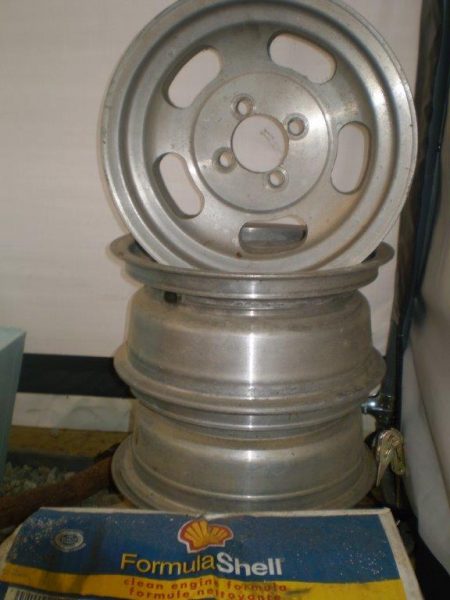 Posted: June 14, 2018
This set of four Vintage slotted mags will fit a Triumph or (perhaps) a Lotus. The wheels are 6 inches wide, with a 4 bolt pattern and 4 inches between bolt centres ('4 x 4 inch'). They are in good condition.
Asking $250.00.
For further info, contact Lois by email at: loisrandle@hotmail.com
————————————————————————————————————————————–
For Sale: Racing Car Trailer
Posted: March 8, 2018
————————————————————————————————————————————–
For Rent: Vehicle Storage Space near Mission Track
Posted: November 17, 2017
Storage space for multiple vehicles available in a warehouse in North Abbotsford approximately 20 minutes from Mission Raceway Park.
For further information, contact Evan by email at: evanwilliams@shaw.ca
————————————————————————————————————————————–
For Sale: Hoosier Slicks
Posted: October 7, 2017
I have a set of properly broken in Hoosier A6 slicks for sale with only four heat cycles on them. The sizes are fronts 225/45ZR17 and rears 245/40ZR17. They are located in Vancouver close to UBC.
Price:$250 for the set, pickup only.
For further information, contact Ray by email at: rerfanifar@gmail.com
————————————————————————————————————————————–
For Sale: 2017 Eliminator Cargo Mate Race Car Trailer
Posted: September 27, 2017
This 32 foot Eliminator Cargo Mate trailer has many features, including the following:
triple 6000 lb. axles, Polar White smooth aluminium, 12″ additional height, 60″ extended triple tube tongue, hydraulic tongue jack, upgraded to 60″ double side doors (from 48″), aluminium pull-out step, wider rear ramp door (4″ wider), 13,500 BTU air conditioner with heat strip, brace and wire for roof air, upgraded 36″ x 33″ vented generator door, insulated interior generator compartment, in-floor battery compartment, under-floor spare tire compartment, 235 80 R16 tire and 8 lug steel wheel, additional tail lights, spread axle & fender upgrade, upgraded to metal door hold backs, super stock package,
It also has:
GFI wall receptacles (interior/exterior; 2 gang), bogie wheels (2-12″ diameter;steel), 110 volt interior wheel wall receptacles (2 gang), black aluminium cabinets, 7 drawer tool chest with ball bearing slides, silver interior walls, AM/FM/CD/Cassette stereo with four speakers in ceiling, 36″ ATP covered flap w/3″ dock bumpers on ramp door, 36″ carpet wainscot upgrade, rubber tread plate on interior wheel boxes, gas shock for gen door, 12 volt cut-off switch, upgraded to 45 amp 110 v/12 v power center in overhead R/S, upgraded to 18″ recessed LED lights (optronics), added 3 – 18″ recessed LED lights (optronics), 2 ft Moody exterior lights, upgraded to 9″ bottom rim.
Asking: $32,000 CDN
For further info, contact Dana by phone at: (780) 887-4414
————————————————————————————————————————————–
For Sale: 2012 Car Hauler Open Trailer 
Posted: August 13, 2017
This 7,000 lb. gross wight car hauler open trailer was built in 2012. It is 20 ft long overall (including the tongue) with a 16 ft deck, and has dual 3500 lb axles, electric brakes, 15 inch radial tires and the original steel ramps.
Additional equipment includes: four light weight aluminium ramps (including ramp extensions for low clearance), a California Immobilizer anti-theft lock, a coupler lock, an 8,000 lb Smittybilt amphibious winch with custom pulley, a regular 2 5/16 inch ball and mount and a weight distribution hitch 2 5/16 inch ball and mount.
Price: $4,100.
For more information, please contact Philip Linzey by phone at: (604) 240-0864
————————————————————————————————————————————–