This Classifieds section provides a location for Club members and others to advertise any vehicle-related items they have for sale or to post in the "Wanted" section for items they are looking to purchase. This is merely an information exchange; the Club does not become involved in the transactions. Contact the Webmaster (see Contacts page here) if you would like to have an ad posted.
WANTED
Looking for something? Just get in touch (here).
Wanted: Racing Car Storage Space
Posted: January 27, 2022
Help! My racing car is homeless!
I am looking for some garage space suitable for storing a Formula Ford plus a little extra room for my extra car stuff – not much, maybe an additional 50 sq. ft. Does anyone have some space they'd like to rent or share, or have some potential leads?
Contact Alan by phone at: (604) 219-7031 or by email at: alan@bakermedia.ca
————————————————————————————————————————————–
FOR SALE
For Sale: Hoosier Vintage Racing Tires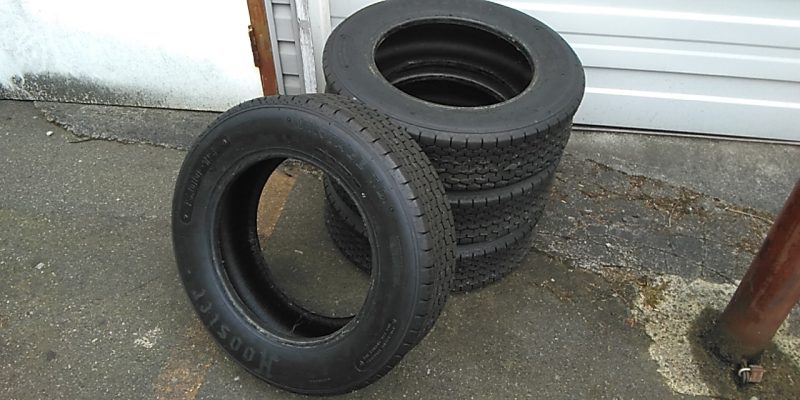 Posted: June 3, 2022
These Hoosier Vintage Racing Tires TD 5.00 x 15 have only been used for half a day on a test and tune session. Located in Vancouver.
Asking: $800 OBO for all four
For more information, contact Felix by email at: fcjchiu@gmail.com
————————————————————————————————————————————–
For Sale: 1997 Hyundai Tiburon Factory Racing Car
Posted: March 18, 2022
This 1997 Tiburon is a former Hyundai factory team car. It almost always qualified on the pole when it ran in the Motorola Cup 'back in the day'. Since it was a factory-prepared racing car it has never been run on the street.
This Tiburon would make an excellent starter car for a new racer. It is professionally built, reliable, predictable and very quick, Other than a thorough inspection and the usual standard pre-race routine maintenance, it is ready to go. It is planned to have the car on view at the SCCBC Race Drivers Training at Mission Raceway during the afternoon of Sunday, April 10th.
Price: $5,000
For more information, contact Mike by phone: (604) 716-2600 or by email at: olddatsunracer@gmail,com
————————————————————————————————————————————–
For Sale: Mallock Mk28 Chassis Kit
Posted: February 1, 2022
Have you always wanted to build and race a very quick Vintage-eligible sports racer? Here is your perfect opportunity. Mallock have been building racing cars and kits since the mid-'50's (Check out their website here.) Mallocks have always been well-known for being fast and strong, yet still practical for an amateur to build and race.
This kit is for a Mk28 which is almost identical to the Mk27 shown above.
The most popular engine is a Ford cross flow but other engine (maybe a BDA kit?) and drivetrain options (see photos) are quite possible.
For more information on possible drivetrain and bodywork options, as well as asking price(s),
Contact John by phone at:  (360) 820-1333 or by email at: john@omnitech-engineering.com
————————————————————————————————————————————–
For Sale: 1950 MG TD Special
Posted: December 14, 2021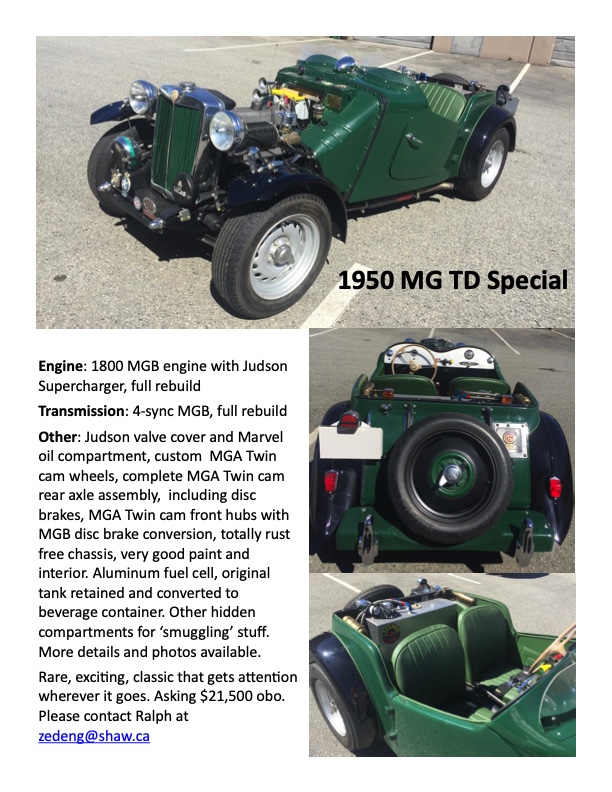 ————————————————————————————————————————————–
For Sale: Simpson Race Suit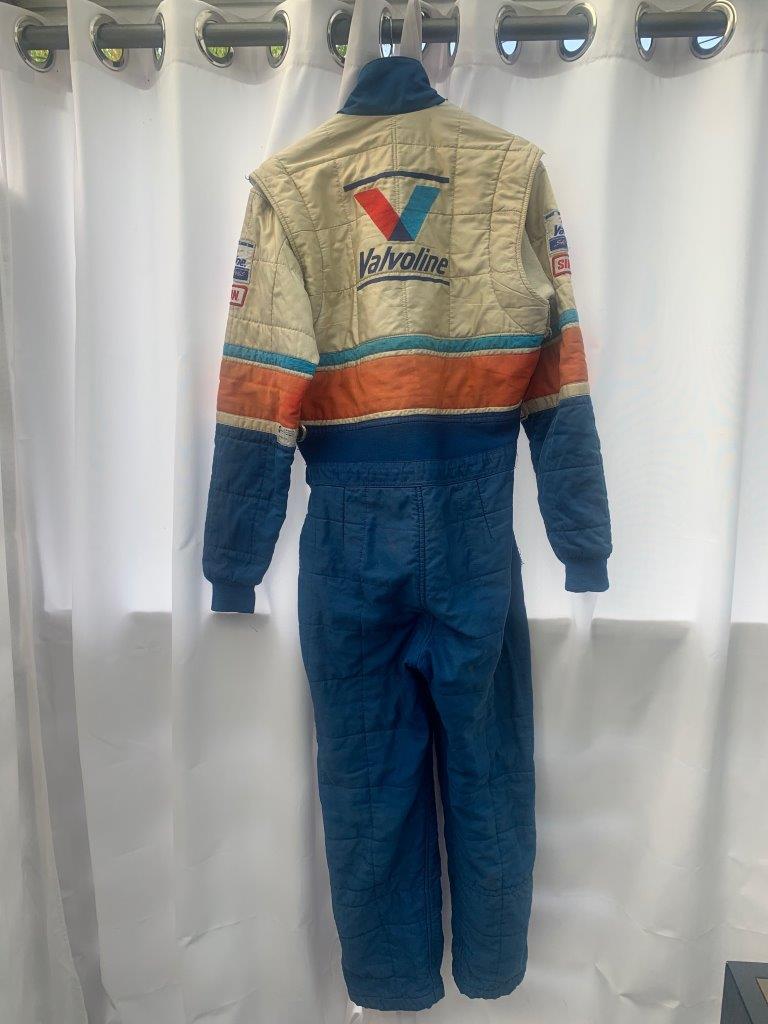 Posted: August 19, 2021
This 'previously enjoyed' Simpson men's race suit will fit someone of 5 ft. 10 in. to 6 ft height and weighing about 200 lb.  It has been carefully stored for about 15 years and would benefit from a good cleaning but is in excellent condition and features Vintage correct insignia!
Price: $350
For further information, call Ian at: (778) 988-6815.
————————————————————————————————————————————–
For Sale: 1991 Ford Taurus SHO
Updated: July  1, 2021
This 1991 Ford Taurus SHO is a great example of the original classic; a real enthusiast's car. It is powered by the excellent Yamaha DOHC 24 valve, V6 producing 220 hp and backed up by a five speed gearbox. The SHO delivered 143 mph/ 230 kph out of the box together with great gas mileage.  This example is fairly close to clean "survivor" condition, It has approximately $10,000 in performance upgrades including urethane suspension components, Koni shocks, stainless header and exhaust, and the Wilwood "SHOstopper" brake conversion.
Included with the car are most of the original parts, receipts and spares, including extra Wilwood brake calipers, extra SHO body parts, Ford factory manual and more.  The front engine seal leaks a bit but a new seal and a new timing belt are included.
The current owner has had this local BC car for 20 years. It has 185,000 miles and although it has been off the road for a few years, it starts and runs very well. It would likely qualify for BC Collector plates with some TLC. It is located in North Vancouver.
Update: If you aren't familiar with the back story of the SHO, watch this recent video (here) from our good friends at Hagerty. As you will see, the SHO is the ultimate 'sleeper'!
Price: $4,000 (And ask about a special deal for current VRCBC and SCCBC members.)
For further information, contact: John by phone at: (778) 229-7296 or by email at: jmelliott@suncor.com
————————————————————————————————————————————–
For Sale: Classic Headlight Stone Guards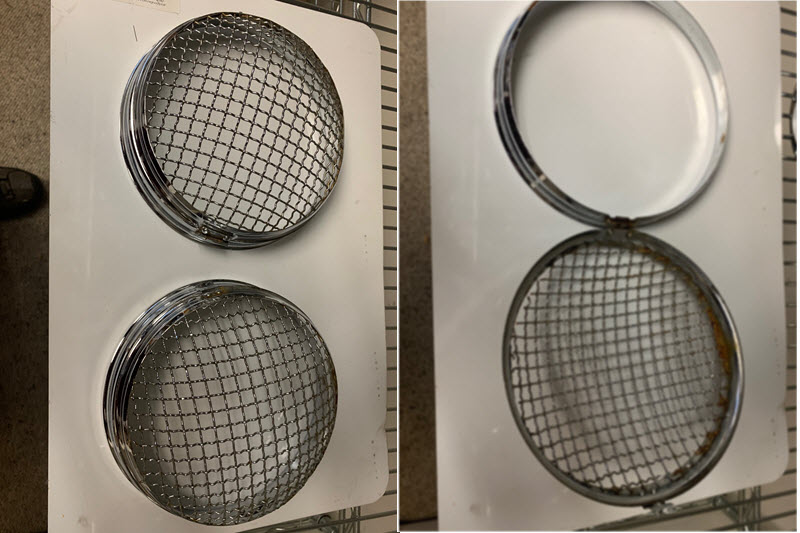 Updated: May 3, 2021
These 7 inch headlight stone guards will give your car that classic Vintage look. Several pairs are available.
Price: $75.00 (and down) a pair.
For further information, call Ian at: (778) 988-6815.
————————————————————————————————————————————–
For Sale: Pair of Bosch Headlights
This pair of used Bosch 7 inch H4 headlight units come with good bulbs.
Price: $95.00
For further information, call Ian at: (778) 988-6815.
————————————————————————————————————————————–
For Sale: BC Historic Motor Races Commemorative Shirts
Updated: January 2, 2021 
We still have a few of our high quality BCHMR commemorative shirts available at a very attractive price. The white Under Armour brand ones are undated. They tend to fit larger, so those labelled Small actually fit Medium, and those labelled Medium are actually Large. The blue ones are from the 2019 BCHMR and we some in each of the sizes: Small, Medium, Large, X Large and 2X Large.
Price: $20 each, with shipment extra if applicable.
For further information or to place an order, call Ian at (778) 988-6815.
————————————————————————————————————————————–
For Sale: Alfa Romeo Wheels
Posted: November 26, 2020
These four rims from a 1985 Alfa Romeo are in excellent condition (although a little dirty right now!). They are size 15 x 7 with a 5 x 98 bolt pattern. Open to reasonable offers.
For further information, contact Mike by email at: olddatsunracer@gmail.com
————————————————————————————————————————————–
For Sale: Datsun 240Z Engine
Updated: May 14, 2021
This Datsun L24 engine has been fully rebuilt and features polished intake and exhaust manifolds, and a set of downdraft Weber carburetors.
Asking $4,000 OBO. The engine is located on Vancouver Island.
For further information, contact Garnet by email at: garnet@slipangleracing.com or by phone at: (778) 967-2880 (Text is preferred.)
————————————————————————————————————————————–
For Sale: Lotus Books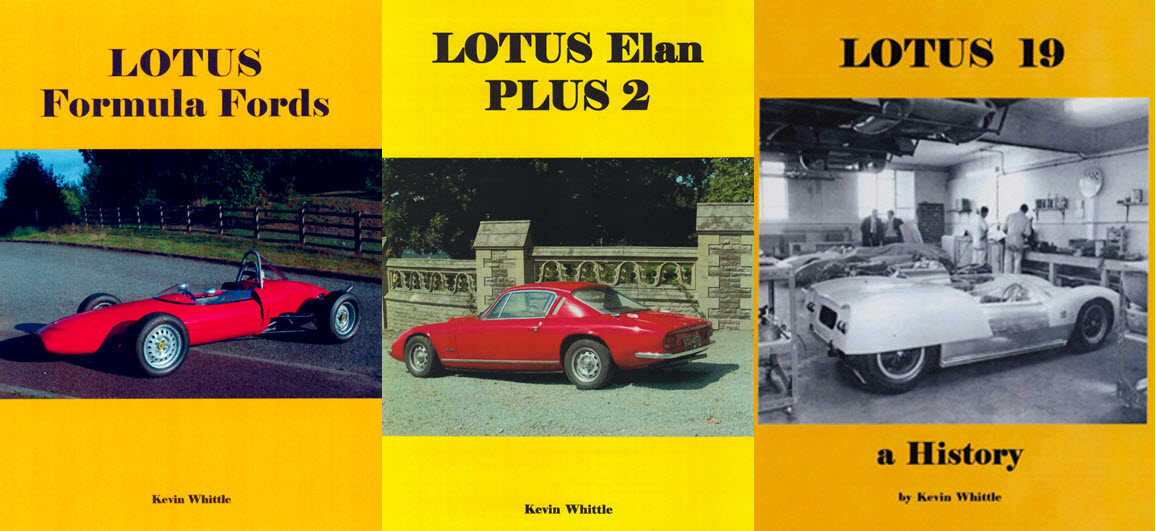 Updated: May 3, 2021
These three books are just some of the publications about Lotus written by Kevin Whittle of England.
Kevin's lifelong passion for Lotus cars has lead to the ownership (and usually the restoration) of a whole cross section of famous models including: +2 Elans, S1, S2 and TC Europas, Mk1 Lotus Cortina, Lotus XI, Lotus 18 and 22 Formula Juniors, Lotus 19 Buick, Lotus 23B, and 35-TC, L-51A and 61 Formula Fords. He has raced his Lotus 35-TC in the UK and Italy, and hill climbed his Lotus XI Climax, Lotus 46 and Lotus 19 Buick.
Kevin's books are very thorough as can be seen by downloading the Table of Contents (in PDF) of two of them (Lotus Elan and Lotus 19) plus a review of the Formula Ford book (here). Check his web site (here) and his Facebook page (here) for a full listing of his excellent publications and information on how to order them.
————————————————————————————————————————————–
For Sale: Triumph Differential Gear Set
Updated: May 3, 2021
'Make your Triumph really go!'
A set of brand new 4:11 gears for a Triumph GT6 or Spitfire for sale.  These currently sell for about 380 Pounds Sterling.
Updated Asking $175 obo.
For more information, contact Phil by phone at: (604) 576-2876 or by email at: phil@symmetricmachining.ca
————————————————————————————————————————————–