Six stalwart members of the Club competed in the Knox Mountain Hillclimb in Kelowna, British Columbia over the May 22nd – 23rd weekend. Evan Williams, Keith Robinson, Randy Custer, Geoff Tupholme, Bernie Hamm and Bruce Jamieson carried the VRCBC flag in this, the 53rd (!) version of this annual BC motorsports tradition. The official results are available on the event web site .
Photo of participants courtesy of Allen Reid: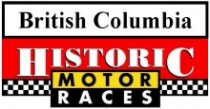 The BCHMR has its own web site with results and photos on the 2014, 2013 and 2012 events. Just click on this link:
www.bchmr.ca
to go directly there.

Go to www.racing.ca to watch some excellent videos of the 2013 races at Mission Raceway. No Vintage races (yet) but the action is great!
Dennis has a 'Smokin' Day'
Lotus 7 2nd – 2012 Race #1
Lotus 7 wins 2012 Race #2