[caption id="attachment_11058" align="aligncenter" width="450"]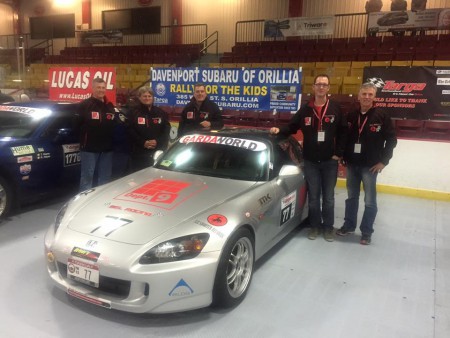 Ready to go!! The BEL Racing Team with their Honda S2000 in St. John's before the start. L to R: Len Swanson, Alan McColl, Brad Law, Chris Lewoniuk and Doug Floer. - BEL Racing photo[/caption]
Posted: September 15, 2015
VRCBC members Alan McColl and Doug Floer have parked their Vintage Formula Fords for a week to go to the other side of the country and compete in the famous annual Targa Newfoundland with the BEL Racing team. (Team leader Brad Law is also a regular Formula Ford runner at Mission Raceway but isn't a VRCBC member ... yet.)
The Targa is a unique motorsports event in North America. It is on many enthusiast's 'bucket list'; not just because of the opportunity to drive fast on 'The Rock's' challenging closed public roads but also because of the legendary hospitality of Newfoundlanders. The 2015 Targa started on Sunday, September 13 and will end on Friday, September 18.
BEL Racing is entered in the fastest 'Targa' class; they are aiming for an outright win. You can pretend you are right there by following the team's exploits on their Facebook site (here). They are continually updating it with photos and on-board videos.
Good luck guys and watch out for the rocks and the moose!