Archive for the 'Non-VRCBC News & Events' Category
Posted: March 16, 2018
Our local motorsport sanctioning body, the CACC has secured very high profile space at the Vancouver International Auto Show for its member clubs and other BC motorsport groups to display their cars, clubs and events. The show will he held at the Vancouver Convention Centre at Canada Place.
The CACC's objective is to showcase all facets of our sport in BC, including Slalom, Hill Climb, Time Attack, Ice Race, Road Race and (our own favourite of course!) Vintage. This year's very big display will include many specially selected (including four Vintage) competition cars, video footage, club schedules and brochures, and other promotional material.
A special focus this year will be to show visitors how they can be involved in all of the action and have a lot of fun, without having to actually race a car. They can volunteer and be trained for flagging, communications, timing and scoring, and many other key positions.
Make sure to stop at the CACC display and say hello; and bring all of your family and friends too!
Show Hours 
Wednesday, March 28th – Noon to 9:30 PM
Thursday, March 29th – 10:00 AM to 9:30 PM
Friday, March 30th – 10:00 AM to 9:30 PM
Saturday, March 31st – 10:00 AM to 9:30 PM
Sunday, April 1st – 10:00 AM to 6:00 PM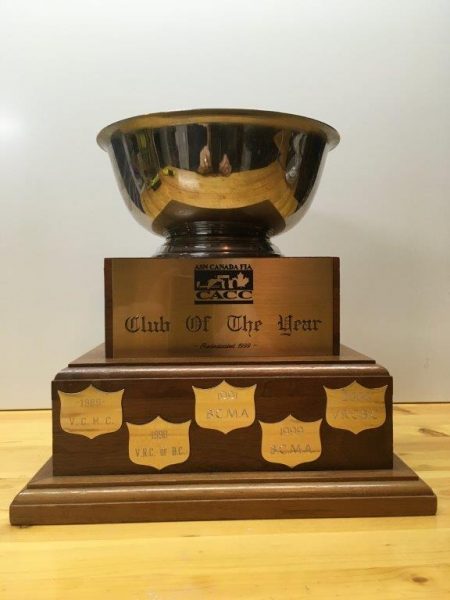 Posted: November 22, 2017
The VRCBC was awarded the Confederation of Autosport Car Clubs (CACC) Club of the Year Award for 2017 at their Fall General Meeting on November 19th. Our Club was particularly recognized for the success of this year's BC Historic Motor Races. Thank you to the CACC!
Posted: November 4, 2017
The VRCBC's very own 'hombre', Karlo Flores has returned from the 2017 edition of La Carrera Panamericana with a class win and a sixteenth overall finish. In 2016, Karlo and his co-driver Juan Carlo Salgado were second in class by only four minutes (story here).
This year, they found a five minute advantage during the seven days, which was just enough because the second place car was only one minute behind them! The final results are available here.
The team's video (here) provides an excellent idea of what an enjoyable event this is. Congratulations Karlo!