Archive for the 'Non-VRCBC News & Events' Category
Posted: October 11, 2018
VRCBC member Larry Sandham took his well-known Mini Vauxhall down to the Maryhill Hill Climb in Goldendale Washington over the October 6-7 weekend. The Maryhill Hill Climb is no pushover; this is what our friends in the SOVREN vintage racing club say about it:
"It's a unique experience for any motorsports enthusiast, as very few hill climb events are still available anywhere in the world. Driving it at speed is a dizzying ascension not for the faint of heart, with long drop-offs just a few feet away all the way to the top."
This is what Larry had to report:
"Unfortunately, only 19 cars took part in this year's event, which was down a little on the usual 30 to 40 but a good time was had by all nevertheless. The cooler than normal temperatures kept the times down a bit but I still managed to get a fourth overall despite having the wrong gearing in the car. The event even includes the opportunity to drive your racing car down the public highway to a car show at the Maryhill Museum on the Saturday, which is always a lot of fun. Heck, where else do you get to do that! No helmet, no insurance, no muffler and a 'liberal' speed limit make for a fun drive."
You can watch Larry pretend to be Don Quixote charging the windmills in this short video.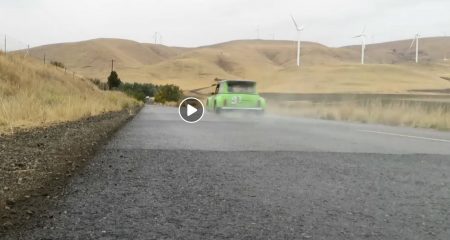 Larry even took some time out from looking for windmills to take a few photos of some of the other interesting cars at the event. Thanks Larry; we look forward to your 2019 report!
Updated: September 24, 2018
Another of the VRCBC's intrepid band of active racing photo-journalists has returned from one of the world's most prestigious Vintage motorsports events. Ivan Lessner took his well-known 1958 Austin Healey 100-6 BN6 down to Monterey California for the Rolex Monterey Motorsports Reunion, held at WeatherTech Raceway – Laguna Seca from August 15th to 18th.
The official entry list (here) is a fabulous wish list for any vintage racing enthusiast. Ivan said he had a great time and that going down the track's (in)famous 'Cork Screw' should be on every racer's bucket list.
Update: Here are two videos taken at the event now posted on You Tube. You can see Ivan's Big Healey at about the 1 minute 30 second mark in this 360 degree 'Paddock Walk' (here). And his entire race (Group 1B) is shown in this video (here) starting at the 41 minute mark. Great stuff!
Posted: July 2, 2018
The VRCBC was well-represented at SOVREN's Pacific Northwest Historics at Seattle's Pacific Raceways over the June 29th – July 1st weekend. Thanks to Brent Martin, (thanks Brent) we have some great photos of them in action. See if you can find them all in the gallery below.
Don Benson; 1974 Porsche RS, #74
Shelby Clark; 1959 Elva Courier, #260
Steve Clark; 1960 Lola Mark 1, #84
Karlo Flores; 1959 Austin Healey 'Bugeye' Sprite, #59
John McCoy; 1986 Mallock Mk 27, #60
Tim Pickstone; 1963 Porsche 356C, #63
Phil Pidcock; 1965 Triumph Spitfire, #46
Larry Sandham; 1985 Mini Vauxhall, #31
Trevor Sandham; 1975 Austin Mini Cooper, #76
Geoff Tupholme; 1973 Austin Mini, #441
Ian Wood; 1970 McLaren M12, #86
You can find all of Brent's motorsport photos on his web site (here).