11 Oct

'Climb Every Mountain'

Posted: October 11, 2018

VRCBC member Larry Sandham took his well-known Mini Vauxhall down to the Maryhill Hill Climb in Goldendale Washington over the October 6-7 weekend. The Maryhill Hill Climb is no pushover; this is what our friends in the SOVREN vintage racing club say about it:

"It's a unique experience for any motorsports enthusiast, as very few hill climb events are still available anywhere in the world. Driving it at speed is a dizzying ascension not for the faint of heart, with long drop-offs just a few feet away all the way to the top."

This is what Larry had to report:

"Unfortunately, only 19 cars took part in this year's event, which was down a little on the usual 30 to 40 but a good time was had by all nevertheless. The cooler than normal temperatures kept the times down a bit but I still managed to get a fourth overall despite having the wrong gearing in the car. The event even includes the opportunity to drive your racing car down the public highway to a car show at the Maryhill Museum on the Saturday, which is always a lot of fun. Heck, where else do you get to do that! No helmet, no insurance, no muffler and a 'liberal' speed limit make for a fun drive."

You can watch Larry pretend to be Don Quixote charging the windmills in this short video.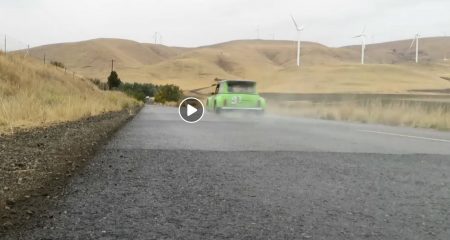 Larry even took some time out from looking for windmills to take a few photos of some of the other interesting cars at the event. Thanks Larry; we look forward to your 2019 report!