[caption id="attachment_11668" align="aligncenter" width="450"]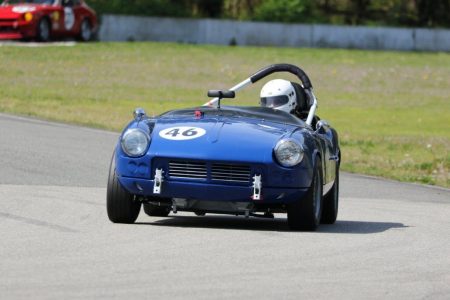 Phil Pidcock brought out his beautifully prepared 1965 Triumph Spitfire for its first race weekend. He quickly got down to some very competitive times before being sidelined by drive line gremlins. Next time Phil! - Brent Martin photo[/caption]
Updated: April 21, 2016
The first CACC-sanctioned race weekend of the 2016 season at Mission Raceway Park Road Course was held on April 16-17. The SCCBC named this the 'McRae Memorial Weekend' in honour of long time volunteer and 2010 Hall of Fame inductee Jim McRae, who passed away earlier this year. The complete results for the weekend are available on the SCCBC website (here).
The Vintage REVS races were held as usual, on the Sunday. The Vintage and Open Wheel / Sports Racer results are also available in PDF under the 2016 Season menu on this web site (here).
Check out Brent Martin's photos of the action on Sunday below. (Thanks Brent!) The next races are less than two weeks away. Registration for the SCCBC's 'Spring Sprint Weekend' on April 30 - May 1 is already open (here). See you there!