[caption id="attachment_16635" align="aligncenter" width="800"]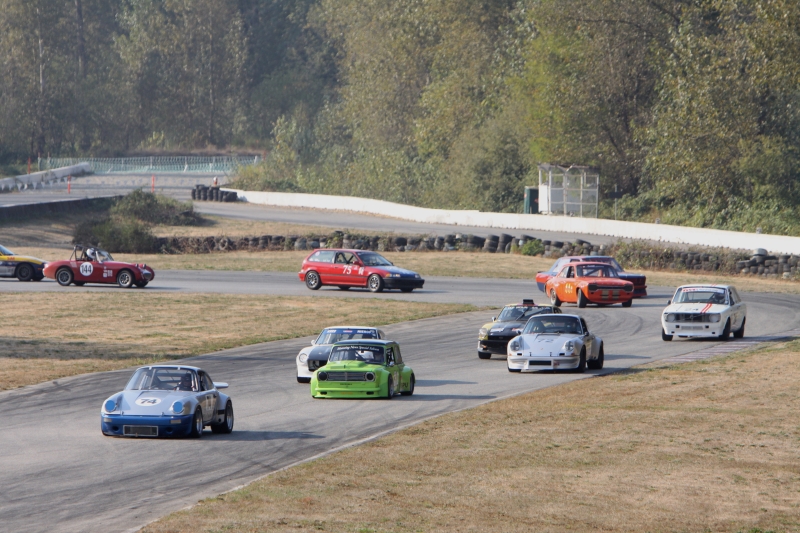 Vintage means Variety! Don Benson ('74 Porsche RS), Larry Sandham ('85 Mini Vauxhall), Kees Nierop ('72 Datsun 280Z), Brett Payne ('72 Porsche 911 RSR), Robin Liu ('70 Datsun 240Z), Ian Wood ('69 Volvo 124S), John McCoy ('69 Ford Escort TC), Peter Strachan ('72 Datsun 510), Gayle Baird ('91 Honda Civic), Gunther Ruppel ('60 Austin Healey 'Bugeye' Sprite), and Fred Semple ( Mazda Miata) charge around Turn One.- Gerry Frechette photo[/caption]
Posted: October 19, 2022
That was quick! The race season is already over! The final CACC-sanctioned SCCBC race event of 2022 was held over the October 8th-9th weekend at the  
Speed-Fanatics Motorsport Circuit
at Mission Raceway Park. The weather was perfect and there was a lot of competitive racing. It was an excellent wrap up for the season. The full results for the weekend are posted on the SCCBC website
(here).
Unfortunately, our long time photo-journalist (and overall great supporter of the VRCBC), Brent Martin
(website)
was unable to attend this weekend for health reasons. Two other good friends of the Club, Gerry Frechette and Sue Phypers stepped into the breach on very short notice to take photos of the action. (Thanks guys.) A few of these are posted below. You can find all of their photos of the Vintage action, plus those of their many other motoring-related activities on Gerry's
website.
It's probably OK to take a few days off but then be sure to get right back to preparing your Vintage racing car. The first race of the 2023 season will be here before you know it! See you at the track!