[caption id="attachment_10176" align="aligncenter" width="450"]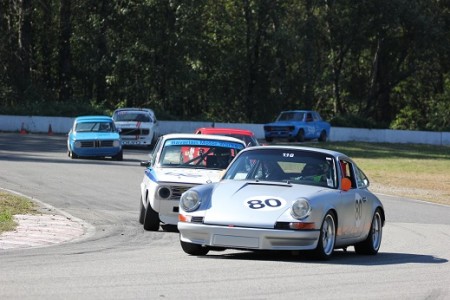 David Hogg (Porsche 911) holds off Ian Thomas (BMW 2002) and an almost hidden Mike Hawthorne (Porsche 944) through Mission's Turn 5 with Leigh Anderson (BMW 1600), Ian Wood (Volvo 142S) and Paul Haym (Datsun 510) in hot pursuit. - Brent Martin photo[/caption]
Updated: September 17, 2014
The latest racing in the VRCBC's REVS series took place this past Sunday, September 14th during the SCCBC's 'September Sizzle Weekend'. The results are posted under the '
Race Results - 2014 Season
' menu tab or just click
here
to go directly to the page. As always, thanks to the SCCBC Timing & Scoring team.
Update:
Jim Bradley has posted some photos of the weekend's racing in the
'Cars
' section of his website (
here
). Look for the
'SCCBC - Sept 14 - 2014'
album or just click
here
to go directly to the six pages of photos. The fourth, fifth and sixth pages have some great shots of our VRCBC 'hero racers'. Thanks to Brent Martin for the action photos below.