[caption id="attachment_9821" align="aligncenter" width="450"]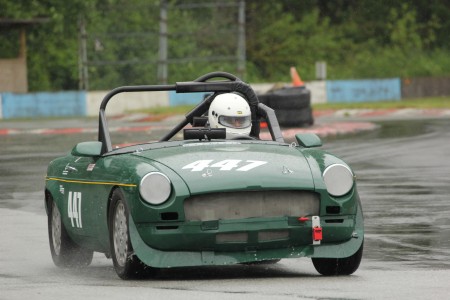 John Elliott (1969 MGB) splashes around the track. - Brent Martin photo[/caption]
Posted: May 28, 2014
The 2014 Vintage racing season at Mission Raceway Park Road Course got off to a very soggy start on May 25th. The weather was OK on the Saturday of the SCCBC's "May-niacs" Weekend, but the Sunday - when the Vintage races were run - was a real west coast-style soaker! Not all of the VRCBC racers had the ideal tires for the conditions but nevertheless 'a good time was had by all' - sort of. After all, being out on the race track - no matter the conditions - is always better than doing chores at home!
The results are posted under the 2014 Race Results menu (here). Thanks to the SCCBC for making them available.
Check out Brent Martin's photos below. As always, thanks Brent.