05 Jan

The VRCBC does La Carrera!

Updated (again): March 9, 2017

VRCBC member and Vintage racer, Karlo Flores blasted his 1960 Porsche 356-B ('Nina') through the winding roads of central Mexico in this year's La Carrera Panamericana.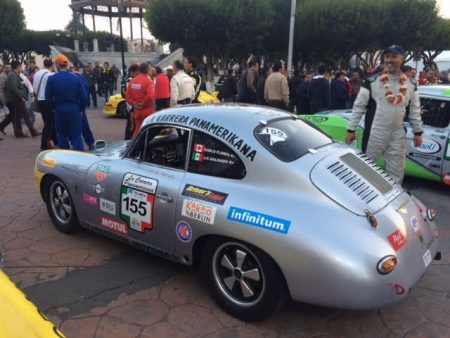 The event began on Friday, October 14th and finished on Thursday, the 20th.
Karlo and his co-driver Juan Carlos Salgado did a great job; finishing second in class (by only four minutes after seven days!) and 15th overall. Well done guys! The event web site has many photos (here) of the action.
And although a two ton, 180 mph 1950 Oldsmobile with a modern tube chassis isn't exactly VRCBC Vintage eligible(!), this in-car video provides an excellent idea of what it's like to drive a typical Carrera stage in a powerful car.
Update: Karlo and his team have created a short (seven minute) video (here) of the highlights of their event. It looks like it was a real blast!
Update some more: Valkyrie Racing has posted this short video on You Tube focusing on the Porsche 356's in the event. Look for Karlo; the VRCBC's own hero!
Update some more, some more: Nina was just featured in the first 2017 edition of the Porsche 356 Registry magazine. You can read the story here.
La Carrera Panamericana – one more thing to add to your Vintage racing bucket list!