[caption id="attachment_11216" align="aligncenter" width="450"]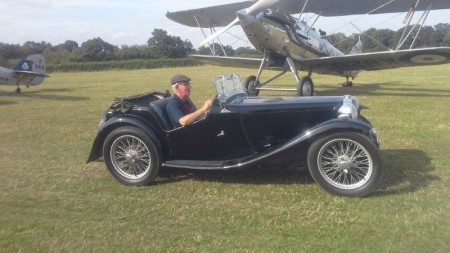 A classic English moment at the Shuttleworth Collection's 'Best of British Airshow' captured by Linda and Manny Zumm[/caption]
Posted: October 16, 2015
The VRCBC's very own international ambassadors. Linda and Manny Zumm have been at it again! When they aren't helping with racing at Mission, they are travelling somewhere interesting. In the past, they have provided us with photos of their visit to the famous Goodwood Revival (here) and of the fascinating 'vintage' cars of Havana (here). This past July they were back in England and some friends surprised them with tickets to the "Best of British Airshow" at The Shuttleworth Collection (here) located at the Old Warden Aerodrome near Biggleswade in Bedfordshire.
The event showcased aircraft designed and built by the best of the many historic British manufacturers from the earliest days. In addition, the TVR Car Club was invited to drop by and celebrate the 75th (!) anniversary of that famous British sports car.
The Shuttleworth pre-event promotional video (on You Tube here) describes the plans for the show and the post-event video (here) shows many of the historic aircraft in action. Two World War 1 era fighters - a Sopwith Snipe and an Albatros DVa - were brought all of the way from New Zealand for the show.
The weather was perfect as you can see from Linda and Manny's photos below. Thanks for the trip report guys; we look forward to the next one!