[caption id="attachment_9093" align="aligncenter" width="450"]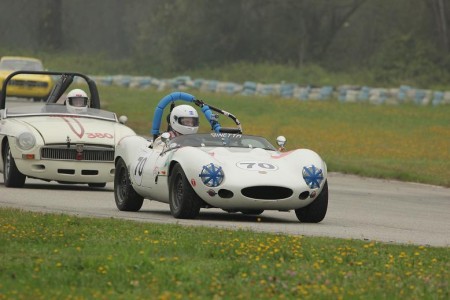 John Carroll (1967 Ginetta G4) leading Bernie Hamm (1967 MGB), with Glen Gibbons (1969 Alfa Romeo GTV) in the background - Brent Martin photo[/caption]
Posted: September 16, 2013
Sunday, September 15th saw the final Vintage REVS races of the 2013 season during the SCCBC's CACC-sanctioned,
'Summer's End'
Weekend at the Mission Raceway Park Road Course. The day started out a little foggy but the weather held all day. It was a great ending to another excellent season of Vintage racing. Our thanks to the SCCBC for hosting our races once again this year. The results are now available and are posted on the 2013 Results page (
here
) Here are some of the first photos of the action. Once again our thanks to Brent Martin for the on-track shots. You can check out all of Brent's photos on his web site (
here
).