[caption id="attachment_7605" align="aligncenter" width="450"]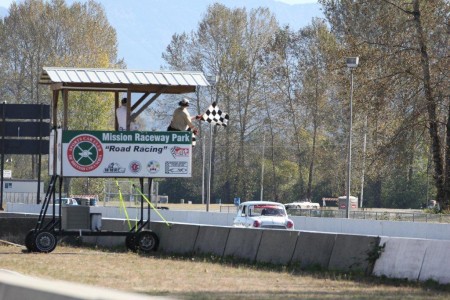 Double Race Winner Geoff Tupholme takes the Chequer - Brent Martin photo[/caption]
Updated: October 12, 2012
The VRCBC's Finest were in Fantastic Form during the SCCBC's Flying Feathers Weekend on Saturday, October 6th. There were lots of entertaining battles throughout the field in both of the races. The weather was perfect and it was a great way to celebrate Thanksgiving and to finish off another great season of Vintage road racing at Mission Raceway Park Road Course.
The final results are available on the SCCBC web site (www.sccbc.net ) or just click here.
Thanks again to Brent Martin for providing (most of) the photos below.
Update: All of Brent's photographs are now posted on his web site (here). Look for the 'Mission Raceway (Vintage Group) Oct.6, 2012' album.