[caption id="attachment_13916" align="aligncenter" width="450"]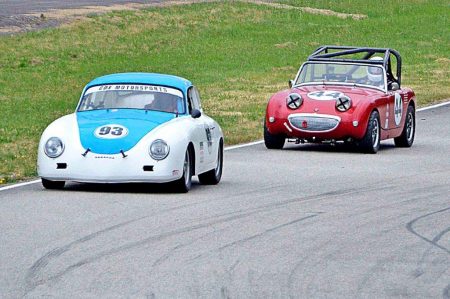 Two of the VRCBC's top 'draft picks' for 2018 battle it out in the Saturday Novice Race! Ewen Dobbie (1959 Porsche 356A) and Gunther Ruppel (1960 Austin Healey 'Bugeye' Sprite) will be 'graduating' to Vintage racing very soon. We are really looking forward to having these two plus Scott Whidden's Alfetta on our grids. - Jim Moody photo[/caption]
Posted: June 26, 2018
We again lucked out with the weather for the season's third race event at the Mission Raceway Park Road Course on the June 23rd-24th weekend. The complete results for the weekend are available on the SCCBC web site (here).
Thanks to Jim Moody and Brent Martin for the great photos of our Vintage action (see below).
The season's fourth event - the July 14th-15th weekend - will be a 'Vintage Double' with Vintage racing on both the Saturday and the Sunday. This will be the perfect warm-up for the our big annual event, the BC Historic Motor Races, a month later during the August 18th-19th weekend.
Get those entries in! See you at the track!