[caption id="attachment_14878" align="aligncenter" width="664"]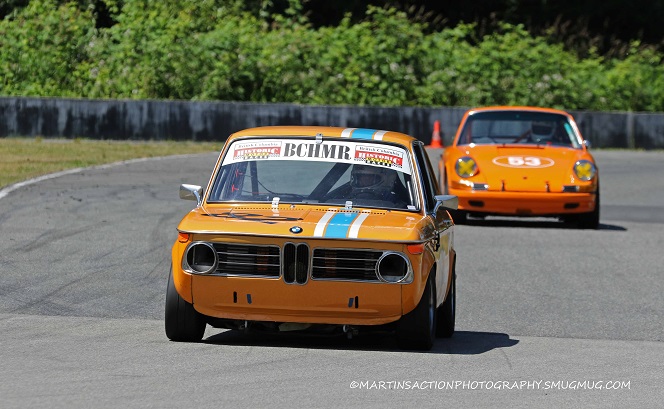 A Vintage 'Teutonic Titanic Tussle'! Paul Haym in his 1969 BMW 2002 leads Peter Valkenburg in his 1969 Porsche 911 into Turn 5 at the Mission Road Course. - Brent Martin photo[/caption]
Posted: June 19, 2019
The second VRCBC REVS races of the 2019 season took place at Mission Raceway Park on the Sunday, June 16th of the SCCBC's
'Dash for Dad's'
weekend. The full results for the weekend are posted on the SCCBC web site Results page
(here).
Brent Martin has again provided us with some great photos (see below) of our Vintage drivers and their cars in action. Thanks Brent! You can find all of Brent's photos on his web site (
here
). The next Vintage on-track action at Mission will be our very own
British Columbia Historic Motor Races
over the August 10th-11th weekend. Before that however, make sure to come out for the SCCBC's big
Mission 25th Anniversary Grand Prix
over the July 27th-28th weekend. Check the SCCBC web site (
here
) for more information. See you at the track!