[caption id="attachment_16544" align="aligncenter" width="800"]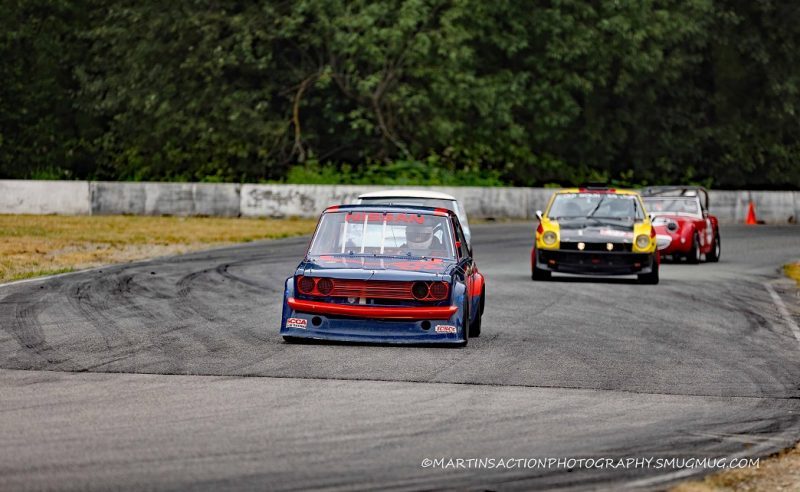 'Vintage means Variety!' Peter Strachan (1972 Datsun 510), Ivan Lessner (1958 Austin Healey 100-6), Robin Liu (1970 Datsun 240Z) and Gunther Ruppel ( (1960 Austin Healey 'Bugeye' Sprite)[/caption]
Posted: July 25, 2022
The fourth races of the 2022 VRCBC's Vintage racing season took place on Sunday, July 17th at the
Speed-Fanatics Motorsport Circuit
at Mission Raceway Park. This was also the fourth event of the VRCBC's IWE-REVS points series for 2022. Our Vintage races were just one part of a full weekend of road racing organized by the Sports Car Club of BC (
SCCBC
) and sanctioned by the Confederation of Autosport Car Clubs (
CACC). 
Thanks (as always) to Brent Martin for his photos (see below) of the action. They are available on Brent's website (
here
), along with the many others he has taken over the years. Make sure to check them out and order at least one of yourself (or your favourite 'hero' driver if that's not you) in action! The complete results for the weekend, including those for Vintage, are available on the SCCBC web site (
here
). The next Vintage races at the
Speed-Fanatics Motorsport Circuit
are the Club's
British Columbia Historic Motor Races
over the August 6th-7th weekend. Check out who has already entered on the BCHMR website (
here
) and we look forward to seeing you there!