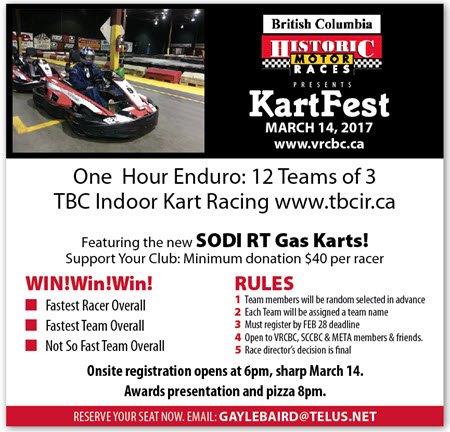 Posted: February 6, 2017
The VRCBC's racing season opens with a blast on March 14th with another of our very popular Kart Races. We are returning to TBC Indoor Kart Racing in Richmond to try out their new SODI gas karts.
To enter, you must be a either a current VRCBC, SCCBC or META member, or the guest of a current VRCBC member. The VRCBC member must be present but does not have to be entered themself. There is no limit on the number of guests per VRCBC member.
The entry fee is a 'minimum donation' of $40 per entrant payable at the door. This includes complimentary pizza and water / soft drinks. (The net proceeds will be used to support our BC Historic Motor Races in August.)
Summary of the main track rules:
Each racer must sign the usual waiver
Racers must be at least 11 years old and 58 inches tall
Racers under 18 must have a valid driver's licence or parent/guardian signature
Closed toe shoes only
No outside food or drink
Zero tolerance for drugs and alcohol
Track management will remove any racer driving in an unsafe manner – no refunds
Helmets are provided free of charge or bring your own, as long as it is full-face and DOT approved.
If you have any specific questions about the rules, please contact TBC Karting directly.
To enter, contact the Event Registrar, Gayle Baird by email at: GayleBaird@telus.net .
Entries close on February 28 so enter now!
Updated (again again): January 5, 2017
VRCBC member and Vintage racer, Karlo Flores blasted his 1960 Porsche 356-B ('Nina') through the winding roads of central Mexico in this year's La Carrera Panamericana.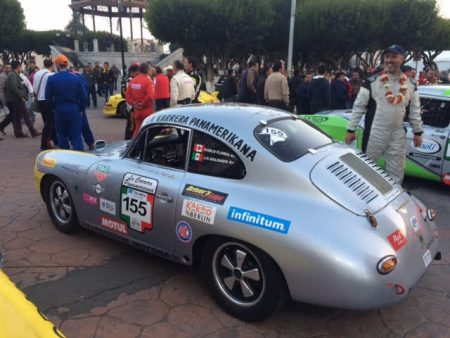 The event began on Friday, October 14th and finished on Thursday, the 20th.
Karlo and his co-driver Juan Carlos Salgado did a great job; finishing second in class (by only four minutes after seven days!) and 15th overall. Well done guys! The event web site has many photos (here) of the action.
And although a two ton, 180 mph 1950 Oldsmobile with a modern tube chassis isn't exactly VRCBC Vintage eligible(!), this in-car video provides an excellent idea of what it's like to drive a typical Carrera stage in a powerful car.
Update: Karlo and his team have created a short (seven minute) video (here) of the highlights of their event. It looks like it was a real blast!
Update some more: Valkyrie Racing has posted this short video on You Tube focusing on the Porsche 356's in the event. Look for Karlo; the VRCBC's own hero!
La Carrera Panamericana – one more thing to add to your Vintage racing bucket list!
Posted: December 14, 2016
The SCCBC has just released their schedule for the 2017 season at Mission. The full 2017 schedule of particular interest to Vintage racers is posted on the Schedule page of this web site (here).
A few key dates:
First SCCBC Race Driver Training Program on the March 25-26 weekend
First CACC races on the April 1-2 weekend (Vintage races on the Sunday)
BC Historic Motor Races on the August 19-20 weekend
See you at the track!