Updated (again again): January 5, 2017
VRCBC member and Vintage racer, Karlo Flores blasted his 1960 Porsche 356-B ('Nina') through the winding roads of central Mexico in this year's La Carrera Panamericana.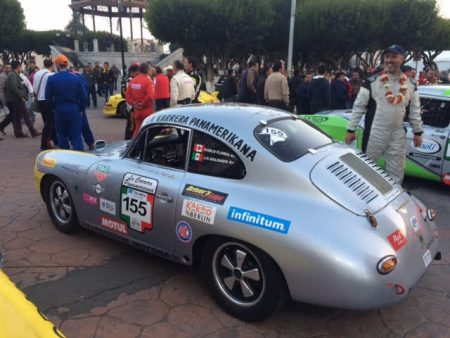 The event began on Friday, October 14th and finished on Thursday, the 20th.
Karlo and his co-driver Juan Carlos Salgado did a great job; finishing second in class (by only four minutes after seven days!) and 15th overall. Well done guys! The event web site has many photos (here) of the action.
And although a two ton, 180 mph 1950 Oldsmobile with a modern tube chassis isn't exactly VRCBC Vintage eligible(!), this in-car video provides an excellent idea of what it's like to drive a typical Carrera stage in a powerful car.
Update: Karlo and his team have created a short (seven minute) video (here) of the highlights of their event. It looks like it was a real blast!
Update some more: Valkyrie Racing has posted this short video on You Tube focusing on the Porsche 356's in the event. Look for Karlo; the VRCBC's own hero!
La Carrera Panamericana – one more thing to add to your Vintage racing bucket list!
Posted: December 14, 2016
The SCCBC has just released their schedule for the 2017 season at Mission. The full 2017 schedule of particular interest to Vintage racers is posted on the Schedule page of this web site (here).
A few key dates:
First SCCBC Race Driver Training Program on the March 25-26 weekend
First CACC races on the April 1-2 weekend (Vintage races on the Sunday)
BC Historic Motor Races on the August 19-20 weekend
See you at the track!
Posted: November 28, 2016
We have just been reminded that the VRCBC was 'born' on November 28, 1976. In the words of David Birchall, one of the founders and now one of our BCHMR race commentators:
'The call went out to all the one make car clubs and Colin Fitzgerald hosted the initial meeting at his house. Subsequent meetings were at Peter Price's palatial premises, Sports and Vintage Cars at 393 Powell Street in the downtown east side.'
That means that the VRCBC is now 40 years old, which by some definitions is the beginning of middle age. That will be a comforting thought to many of our current members!
Happy Anniversary to us! Here's to another 40 years!
Posted: October 14, 2016
The last CACC-sanctioned, SCCBC-organized race event of the 2016 season honoured Tony Morris, a local motorsport legend who passed away in July. The Tony Morris Memorial Weekend featured SCCBC points races on both Saturday and Sunday, plus a special 'Time-Attack No Passing Introductory Event' on the Saturday as well as the VRCBC's own REVS Vintage races on the Sunday.
The weekend also 'featured' heavy rains on the Saturday; check out Brent Martin's photos of all the splashing around here.
Fortunately for all of the Vintage racers (particularly those still using Lucas electrics!), Sunday's weather was perfect; there was some excellent action on track and everyone had a good time.
The complete results for all of the weekend's racing are available on the SCCBC website (here). The Vintage Closed Wheel and the Open Wheel / Sports Racer results are available in PDF under the 2016 Season menu on this web site (here).
Check out some of Brent Martin's photos of the Vintage action below. Brent has many more motorsport photos on his web site (here).