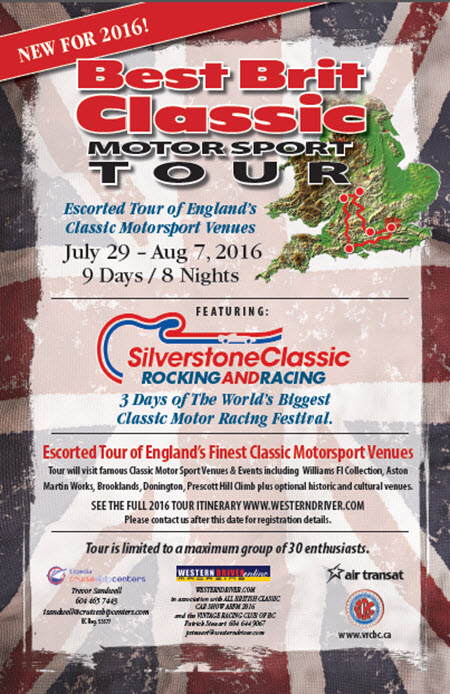 Posted: February 12, 2016
Long time VRCBC member Patrick Stewart is well known to Club members as the organizer of the All British Field Meet – The Greatest Show on British Wheels – as well as for his invaluable leadership in obtaining sponsorship for our BC Historic Motor Races every year. But Patrick is also active in other motorsport activities.
His company, Western Driver has just announced its second annual escorted tour of some of England's finest classic motorsport venues. This one – from July 29 to August 7 –  includes visits to the Silverstone Classic – the biggest classic motor racing festival in the world, Brooklands – gear head heaven, the Donington Park Grand Prix Collection – the largest showcase of Grand Prix cars in the world, the Williams F1 Collection, the Aston Martin Works, a leading Jaguar restoration shop and many other attractions.
A big advantage of an escorted tour is that you don't have to worry about trying to find everything you want to see on a tight schedule, while simultaneously 'negotiating' the (in)famous English traffic! And if you prefer, you have the option of making your own flight arrangements and just meeting up with the group in England.
For more information, check out the Western Driver web site (here). Last year's tour sold out quickly.
Updated: February 10, 2016
It's that time of the year again; time to renew your VRCBC membership. Just go to the Membership page (here) and follow the instructions. The Club is pleased to announce that a new fourth option has just been added. (That's the same as the number of cylinders in Tom Sproule's all-conquering Formula Vee!)
Remember, you must have your 2016 Club membership card before you applying for your 2016 Vintage Race Licence.
This new option is through MotorSportReg.com. If you already have a personal account on MSReg.com, just go directly to the VRCBC 2016 Membership page (here); it will only take a couple of minutes. This will likely be the most convenient method for active racers and many have already taken advantage of it. Setting up your own MSReg.com account is straightforward if you want to do that even of you are not a racer.
The other three options are still available of course. Renew now!
Updated: February 8, 2016
You snooze, you have to stay in the Paddock!
The SCCBC has closed the registration for their first (of two) Driver Training Program of 2016; the spaces have all been taken already. The classroom session will be on Sunday, March 13 with the on-track sessions at Mission Raceway Road Course over the March 19-20 weekend.
This SCCBC Program is generally acknowledged to be one of the best values available anywhere. It is a great opportunity to find out what it is like to drive smoothly and quickly on a real race track. And if you should decide to go road racing – whether Vintage or otherwise – this is the best and most cost-effective way to get on the first step of that ladder.
Your next – and final – chance for 2016 will be the program scheduled for mid-June. Go to the Driver Training page on the SCCBC web site (here) for more information and watch for the online registration to open.
See you at the track!