Posted: March 13, 2017
We're baaaaack! The 2017 race season at Mission Raceway Park Road Course is almost here. The first Sports Car Club of BC (SCCBC) event, sanctioned by the CACC, will be held over the April 1-2 weekend. As usual, our Vintage REVS series races will be on the Sunday.
Note:
The full season schedule is available on the SCCBC web site here.
Online race entry is available here.
The SCCBC is also holding a Practice Day (with a half day option) open to all prepared cars including Vintage, on Friday, March 31. It has a separate online registration here.
Get those entries in! See you at the track.
Posted: March 10, 2017
Another of the VRCBC's many intrepid, jet-setting reporters has just submitted his latest race report. Gunter Pichler attended the SVRA (Sportscar Vintage Racing Association) Sebring Vintage Classic at historic Sebring International Raceway over the March 2-5 weekend, and sent us some of his photographs of the great cars that were in action.
Thanks Gunter!
Updated (again): March 9, 2017
VRCBC member and Vintage racer, Karlo Flores blasted his 1960 Porsche 356-B ('Nina') through the winding roads of central Mexico in this year's La Carrera Panamericana.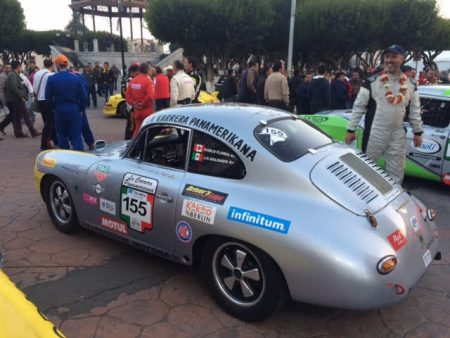 The event began on Friday, October 14th and finished on Thursday, the 20th.
Karlo and his co-driver Juan Carlos Salgado did a great job; finishing second in class (by only four minutes after seven days!) and 15th overall. Well done guys! The event web site has many photos (here) of the action.
And although a two ton, 180 mph 1950 Oldsmobile with a modern tube chassis isn't exactly VRCBC Vintage eligible(!), this in-car video provides an excellent idea of what it's like to drive a typical Carrera stage in a powerful car.
Update: Karlo and his team have created a short (seven minute) video (here) of the highlights of their event. It looks like it was a real blast!
Update some more: Valkyrie Racing has posted this short video on You Tube focusing on the Porsche 356's in the event. Look for Karlo; the VRCBC's own hero!
Update some more, some more: Nina was just featured in the first 2017 edition of the Porsche 356 Registry magazine. You can read the story here.
La Carrera Panamericana – one more thing to add to your Vintage racing bucket list!
Updated: March 10, 2017
The SCCBC has just released their schedule for the 2017 season at Mission. The full (updated) 2017 schedule of particular interest to Vintage racers is posted on the Schedule page of this web site (here).
A few key dates:
First SCCBC Race Driver Training Program on the March 25-26 weekend
First CACC races on the April 1-2 weekend (Vintage races on the Sunday)
BC Historic Motor Races on the August 19-20 weekend
See you at the track!