Posted: December 2, 2014
The Sports Car Club of BC (SCCBC) has just announced the full race date schedule for Mission Raceway Park Road Course. You can find it on the Season Schedule page of their web here .
The 2014 British Columbia Historic Motor Races will be held on the August 16 – 17 weekend. The latest information will be posted on the BCHMR web site. See link in the right hand column.
Updated: December 3, 2013
…… a full Vintage FVee package, a full-race MGB, or a Mk1A Sunbeam Tiger, or a Hawke Formula Ford, or a 'Big Healey', or a Mallock (We have two(!) with an updated price on the Mk11 shown above.), or the 1958 'Canada Class' Champion V.A.Y. Special (updated price), or another full-race MGB, or dry storage in Langley, or a street MG Midget, or trailer ramps, or a DKW-engined Formula Junior, or if you have a Triumph GT6 for sale, or you are looking for a Spitfire gearset, or a Stewart Warner gauge set, or a LeGrand Formula Ford chassis 'project', or driver-signed Jaguar racing prints by well-known motorsports artists, or a choice of other Vintage racing sports cars, or … whatever?
Check out the items in our Classifieds page under the Pit Shop menu by clicking here.
Updated: November 16, 2013
Update: Photos added
It was another epic VRCBC Kart Race on November 6th. A full grid of 12 karts and 36 drivers took the green flag at TBC in Richmond for the one hour race; even more impressively they all made it to the end! You can see the complete results here.
The winning Team 'CPR' (not the railroad) of Greg Campbell, Gunter Pichler and Phil Roney beat the second place Team 'Over the Hill' (an appropriate name perhaps?) of Ian Wood, Keith Robinson and Paul Haym by only 29 seconds. The gap was actually down to five seconds with only a minute to go when a hard charging Ian Wood decided to try passing some lapped traffic by taking the high side on the banking of the last turn – except there is no banking on this kart track (see photo).
Team 'Over the Hill' never let up throughout however. Both Ian Wood (at 29.828 seconds) and Keith Robinson (at 29.986 seconds) broke the 30 second lap barrier. They would have made it even closer if they had not made an unnecessary extra pit stop / driver change. (It is always best to pay full attention throughout the full pre-race drivers meeting!)
Team META (of Roger Salomon, Thomas Leisner and Angus Glass) took the final place on the podium; these veteran corner workers leaving many supposedly 'real' racers in their dust.
The fight for fourth place was extremely close with three teams separated by only three seconds at the finish. Team Ogre (Jock Hobson, Peter Chappell, Chris Wilberg) took fourth followed by Team Quick (Evan Fraser, Malcolm Curtis, Bernie Hamm) and then the previous (in March) race winning Team Tiger (Trevor Yip, Doug Yip, Steve Hodge).
Planning is already underway for the next race in the New Year. Check out some more photos of this action-packed event below.
Posted: November 8, 2013
This year's Annual Gala & Banquet on Saturday, November 2 at the Delta Town & Country Inn was another big success with the usual potpourri of great food, 'speeches', serious (and not-so-serious) year-end awards, door prizes and dancing. Congratulations to Ivan Lessner, this year's REVS Champ and to all of the other award recipients. We look forward to seeing everybody at the track in 2014.
Thanks to Gerry Frechette for the photos of the evening shown below. You can check out all of Gerry's photos of this past year in motorsport on his web site (here).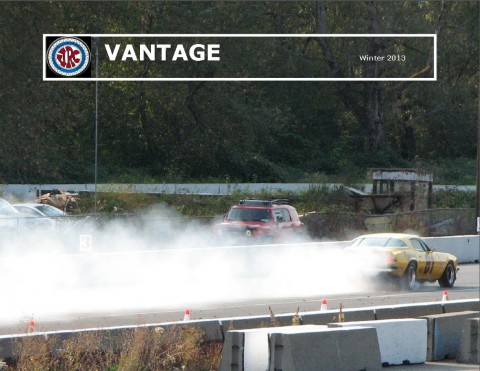 Posted: November 8, 2013
Editor in Chief Tom Johnston has just released the Winter 2013 edition of Vantage – the VRCBC Newsletter. In this issue, Robin Fairservice tells us what Donald Healey was up to before he created the legendary Austin Healeys. Mike Tate discusses the difficulties inherent in making comparisons between various drivers and then (unsurprisingly for Mike) concludes that Jim Clark is his 'pick of the crop'. Tom reports on the recent induction of four local road racing legends into the Greater Vancouver Motorsport Pioneers Society and there are two photo montages from the BCHMR and some English motorsport points of interest.
You can find this edition and all of the previous Vantages under the About VRCBC menu, or just download it directly by clicking here.

 Posted: October 9, 2013
Our motor racing partners and good friends, the Motorsport Emergency and Turnworkers Association – better known as META – have just published the latest edition of their MAYDAY newsletter. (Click here for the PDF version.) This issue is loaded with articles about the just-finished 2013 racing year plus updates on the successes of some of our local 'heroes', as well as information on the remaining party events of the season.
Make sure to check out the special deal described on the bottom of page 2. Through a special arrangement, META is selling 400ml cans of ColdFire, the well-known eco-friendly fire extinguisher product as a fund-raising initiative. This is a real 'Win – Win'; you can do yourself – and your friends –  a big favour, and also support META at the same time!
Posted: September 16, 2013
Sunday, September 15th saw the final Vintage REVS races of the 2013 season during the SCCBC's CACC-sanctioned, 'Summer's End' Weekend at the Mission Raceway Park Road Course. The day started out a little foggy but the weather held all day. It was a great ending to another excellent season of Vintage racing. Our thanks to the SCCBC for hosting our races once again this year.
The results are now available and are posted on the 2013 Results page (here)
Here are some of the first photos of the action. Once again our thanks to Brent Martin for the on-track shots. You can check out all of Brent's photos on his web site (here).
Updated: August 20, 2013
Our Vintage racers were on track during the Sunday of the SCCBC's 'Summer Sizzler' August 3rd-4th Weekend at Mission Raceway Road Course. In addition to these 'golden oldies', there was lots of other great action throughout the weekend as well.
This weekend also featured the Family Affair Racing Team (aka F.A.R.T.) fourth annual Formula Vee Invitational Race. The Vees always put on a great show from the front to the back of the pack and this year was no different. More info on the F.A.R.T. Facebook page (here).
The final results are available on the Race Results – 2013 Season page (here).
Check out Brent Martin's photos of the action below.
Updated: July 17, 2013
The most recent Vintage races at Mission Raceway Park Road Course were held on a beautiful Sunday, July 14th as part of the SCCBC's CACC-sanctioned, 'Summer Fun' Weekend. The results are posted on the Race Results – 2013 Season page here. (Thank you SCCBC.)
Some of Brent Martin's photos are shown below. Check out all of Brent's photos on his web site here.
SOVREN, our Vintage racing partners from across the border, held their big annual Pacific Northwest Historics event at Seattle International Raceway over the July 5th-7th long weekend. A number of VRCBC members took part and thanks to Brent Martin, Jim Moody and Jock Hobson we have photos of some of them – and others - in action. See below.
Update – July 12, 2013: Jock Hobson's photos added below. Visit the VRCBC Facebook page  (here) to find links to more photos by Marshall Autry and also two in-race videos from inside Paul Kuckein's Z-28, and one from Gunter Pichler's XKE.
Be sure to check out all (over 370) of Brent's photos of the PNW Historics on his web site (here).
Posted: July 10, 2013
Our good friends from the Greater Vancouver Motorsports Pioneers Society (GVMPS) held a car show at Shipbuilders' Square on the North Vancouver waterfront on Sunday, July 7th. There were lots of great machines on display but – although we might be biased – we think the stars of the show were the two 'Open Wheelers' of the VRCBC's very own; BCHMR Chairman Tom Johnston and Vice President Dennis Repel.
Check out some more photos below.
It was wet but it was fun! Go to the BCHMR's own web site (www.bchmr.ca) for the complete results and photos of this year's event. A big 'Thank You!' from the VRCBC to everybody who entered and volunteered their time. See you again next year.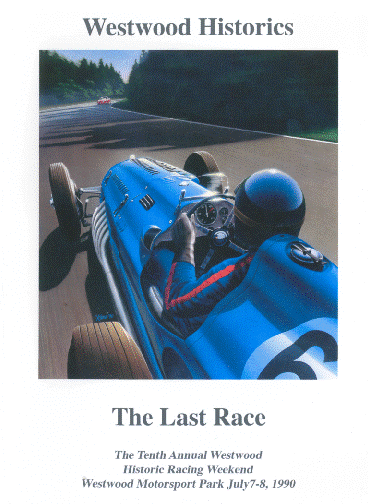 Many of those who attended the VRCBC's special 'Westwood Mural Unveiling' meeting at Mark's Auto Body in Port Coquitlam or our Annual Banquet asked about one of the DVD's we were showing.
This was 'The Last Race', a DVD produced by Hans Sipma about the very last Vintage race event, 'The Tenth Annual Historics Weekend', held at Westwood over an early July weekend in 1990.
The entry list of almost 100 cars that is included with the DVD contains many familiar names, quite a few of whom are still Vintage racing today. And you will recognize a lot of the faces too (although they are considerably younger!) when you watch it.
The DVD captures a lot of the activity and fun in the Paddock as well as having some great video of the on-track action, which features everything from classic Morgans to 'Vettes and XKE's, and from Formula Vees and Fords, to the beautiful 1948 Talbot Lago Grand Prix car, captured by Kane Rogers in his cover illustration.
Click here to download Hans' info sheet for his DVD.