Posted: November 23, 2016
Looking for a unique Vintage racing car project? This Marcos GT could be perfect. Check it out in the Classifieds section (here).
Updated (again): November 14, 2016
VRCBC member and Vintage racer, Karlo Flores blasted his 1960 Porsche 356-B ('Nina') through the winding roads of central Mexico in this year's La Carrera Panamericana.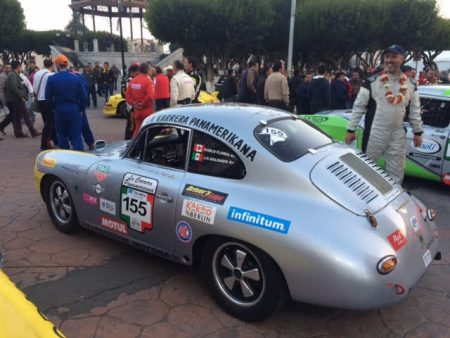 The event began on Friday, October 14th and finished on Thursday, the 20th.
Karlo and his co-driver Juan Carlos Salgado did a great job; finishing second in class (by only four minutes after seven days!) and 15th overall. Well done guys! The event web site has many photos (here) of the action.
And although a two ton, 180 mph 1950 Oldsmobile with a modern tube chassis isn't exactly VRCBC Vintage eligible(!), this in-car video provides an excellent idea of what it's like to drive a typical Carrera stage in a powerful car.
Update: Karlo and his team have created a short (seven minute) video (here) of the highlights of their event. It looks like it was a real blast!
La Carrera Panamericana – one more thing to add to your Vintage racing bucket list!
Posted: October 14, 2016
The last CACC-sanctioned, SCCBC-organized race event of the 2016 season honoured Tony Morris, a local motorsport legend who passed away in July. The Tony Morris Memorial Weekend featured SCCBC points races on both Saturday and Sunday, plus a special 'Time-Attack No Passing Introductory Event' on the Saturday as well as the VRCBC's own REVS Vintage races on the Sunday.
The weekend also 'featured' heavy rains on the Saturday; check out Brent Martin's photos of all the splashing around here.
Fortunately for all of the Vintage racers (particularly those still using Lucas electrics!), Sunday's weather was perfect; there was some excellent action on track and everyone had a good time.
The complete results for all of the weekend's racing are available on the SCCBC website (here). The Vintage Closed Wheel and the Open Wheel / Sports Racer results are available in PDF under the 2016 Season menu on this web site (here).
Check out some of Brent Martin's photos of the Vintage action below. Brent has many more motorsport photos on his web site (here).