[caption id="attachment_6873" align="aligncenter" width="480" caption="Some of the grid gets set for the first Session on Saturday- VRCBC photo"]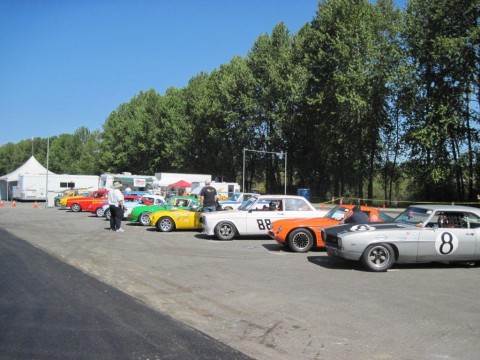 [/caption]
Updated: May 29, 2012
The weather was perfect for the Sports Car Club of BC (SCCBC)  'Mother's Day Special' Race Weekend on May 12th and 13th.  The VRCBC racers did their part to honour all mothers with their special 'Double - Double' - holding two races on each of the Saturday and Sunday. Not all of the cars (or drivers!) managed to complete both days, but there was some excellent battles throughout the field in all four events. The results are posted on the SCCBC web site (
here -
click on 'Race Results') or they can be viewed directly
here.
Photo Updates:
A big thank you to these photographers for making their photos available to us.
Brent Martin has posted his photos here. He has also posted them to autocourse, the well-known, eastern Canadian motorsports website. (Just click here and look for the VRCBC logo.) You can check out all of Brent's photo albums at his web site: http://www.martinsactionphotography.smugmug.com/
Gerry Frechette
has posted photos of all of the Mother's Day Weekend activities on his web site (
here
). Click 
here
for his Vintage photos.
Paul Bonner's
photos of the Vintage races are now included in the gallery below. See the Links page (
here
) to contact Paul.