[caption id="attachment_3338" align="aligncenter" width="500" caption="Alan McColl and his 1968 Lotus Cortina - Myles Kitchen photo"]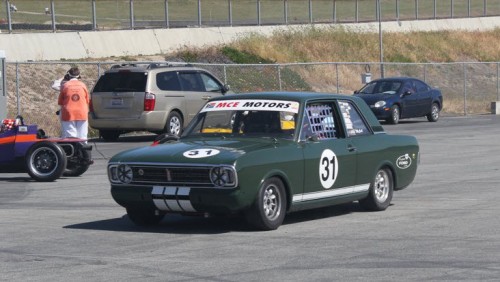 [/caption] Several VRCBC members got in some pre-BCHMR warmup by taking part in the Vintage Spring Classic at Mazda Raceway at Laguna Seca, in Monterey California over the April 30-May 1 weekend. Geoff Tupholme sent
this link
to a YouTube video of the start of the Sunday Feature. That's Geoff in the white Mini in about 15th place. Thanks to Myles Kitchen, we also have some photos of two others, Alan McColl and John McCoy, who were entered in the special 'English Ford Day at The Races' group.
Some more of Myles' photos are shown below.
All of them can be seen in his gallery
here
.